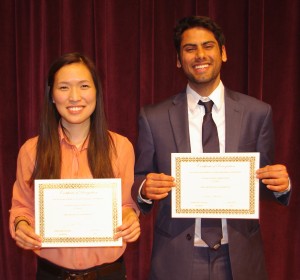 A large contingent of chemical and biological engineering undergraduate students represented Iowa State University in the annual American Institute of Chemical Engineers (AIChE) Midwest Regional Conference – with some strong results achieved in competitions.
More than 30 members of the Iowa State AIChE chapter took part in the conference at Kansas State University, which saw a total of 12 universities involved. The event features educational events, networking opportunities and competitions between universities. In the research poster competition Iowa State's Pratish Adhikari took first place, with Ivy Wu finishing third.
In the ChemE Car competition, which involves student teams designing, constructing and demonstrating a small vehicle powered and stopped by chemical processes, ISU's "Gengar Gang" placed second, and also finished second in the ChemE Car research poster display competition. Those students will now compete in the ChemE Car session at the AIChE national conference in San Francisco in November.
The Iowa State CBE students who participated in the Regional Conference were Arianna Adams, Pratish Adhikari, Gabriela Ampuero, Michelle Ampuero, Vincent Anderson, Seth Baetzold, Victoria Bertram, Nicholas Brown, Abigail Bruen, Derek Bruun, Joshua Claussen, Daniel Dagle, Joseph Dailey, Jonathan Duffy, Paul Faronbi, Elizabeth Frank, Jacqueline Galang, Brian Gates, Joseph Graves, Quinn Hanson-Pollock, Gavin Hellmich, Matthew Hendrickson, Andrew Hughes, Christopher Isely, Carolyn Jennrich, Viktoriia Kriuchkovskaia, Jenna Opp, Eli Reiser, Tyjamin Roark, Richard Russell, Alexander Saenski, Ellen Wick and Ivy Wu.