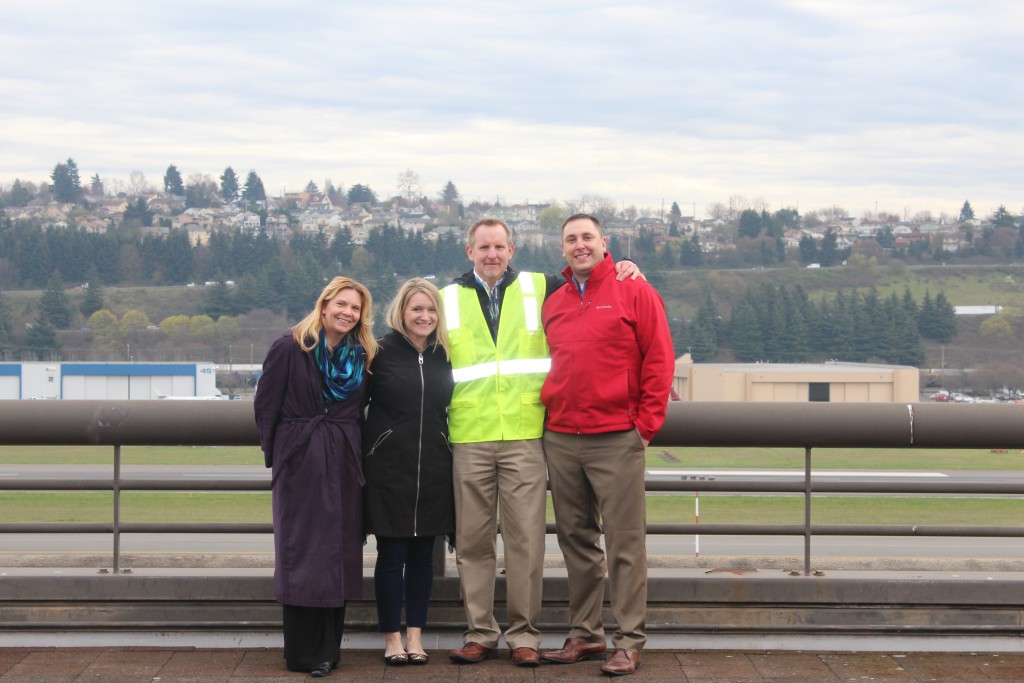 AerE alums lead ecoDemonstrator project at Boeing
A degree from Iowa State in aerospace engineering has brought two alums to a big project in their field. Doug Christensen (AerE '87) and Dean Hawkinson (AerE '00) both currently work on the ecoDemonstrator program at Boeing.
The program is an inventive and environmentally progressive way for engineers to test out new aviation technologies. In order to do this, a series of flight test campaigns are run by installing newly developed technologies into older planes that aren't in the certification process so the plane can test these innovations on a real flight. If the airplanes weren't being put to use in this program once they are retired, they would be going to a junkyard or a landfill instead.
One reason it is important to use recycled planes is that the certification process for a new aircraft is very long. "Boeing only puts out new planes every 20 years," Christensen said. If it weren't for the ecoDemonstrator program, which tests technologies every two years, engineers wouldn't get to see their ideas fly for perhaps their whole time with the company.
There have already been three planes refitted with these enhanced technologies, yielding big results for Boeing production programs. In 2012, a 737 was used to demonstrate 15 new technologies in a partnership with American Airlines and the Federal Aviation Administration. Christensen and Hawkinson were instrumental in leading the teams that developed the technologies that ultimately led to the new Advanced Technology Winglets for the 737 MAX. A 787 owned by Boeing was flown in 2014 and demonstrated more than 25 new technological advances.
2015 brought collaboration with NASA and TUI Group that demonstrated 15 technologies on a 757-200. Because the airplane was at the end of its service life, engineers could incorporate larger technology changes than previous demonstrators. One of these technologies was a new wing.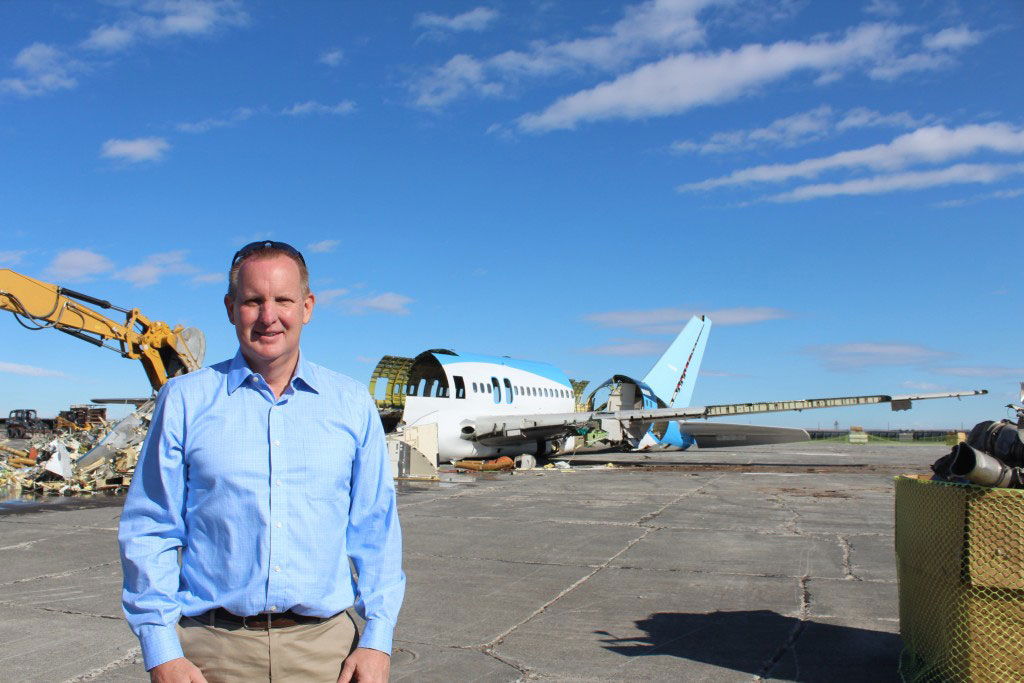 "We removed a major part of the left wing and put on an all new wing," said Christensen. "We're testing natural laminar flow, which is an air flow shape that creates much less drag and improves fuel burn."
Other technologies tested on the plane included adding active flow control on the vertical tail and using carbon fiber scraps from their factory to 3D print new parts for the plane and flying on biofuels.
Hawkinson managed the natural laminar flow wing and the active flow control vertical tail technology development teams and continues to lead the effort to transition these technologies from the development phase into Boeing's production capabilities. "These technologies extend Boeing's competitive advantage in commercial airplanes and we need to incorporate them in an economically viable way," he said.
The 757 ecoDemonstrator program incorporated major changes, but it also gave Boeing engineers insight into how to design airplanes for environmentally progressive recycling. Allowing the planes to be recycled is one way that Boeing is 'going green,' but the innovations they are trying out on these planes are sustainable as well. " The technologies we're looking at are environmentally progressive technologies," said Christensen. "Fuel-burn, emissions, operational efficiencies, sustainable materials, these are all areas we're working to improve."
The next three or four years of demonstrations have already been planned out too. This year, the company has plans to work with Embraer in Brazil to demonstrate environmentally progressive technologies on one of Embraer's planes, and in 2018, Boeing is targeting a widebody twin as the demonstrator vehicle.
Hawkinson joined Boeing in 2000 after an Iowa State career that included leading large student projects in the aerospace engineering department. "My current role at Boeing leverages everything I have learned throughout my career and at Iowa State," he said. Prior to his current role, Hawkinson developed a broad technical background working as an aerodynamicist and as the lead for full-scale structural testing of the 787 wings.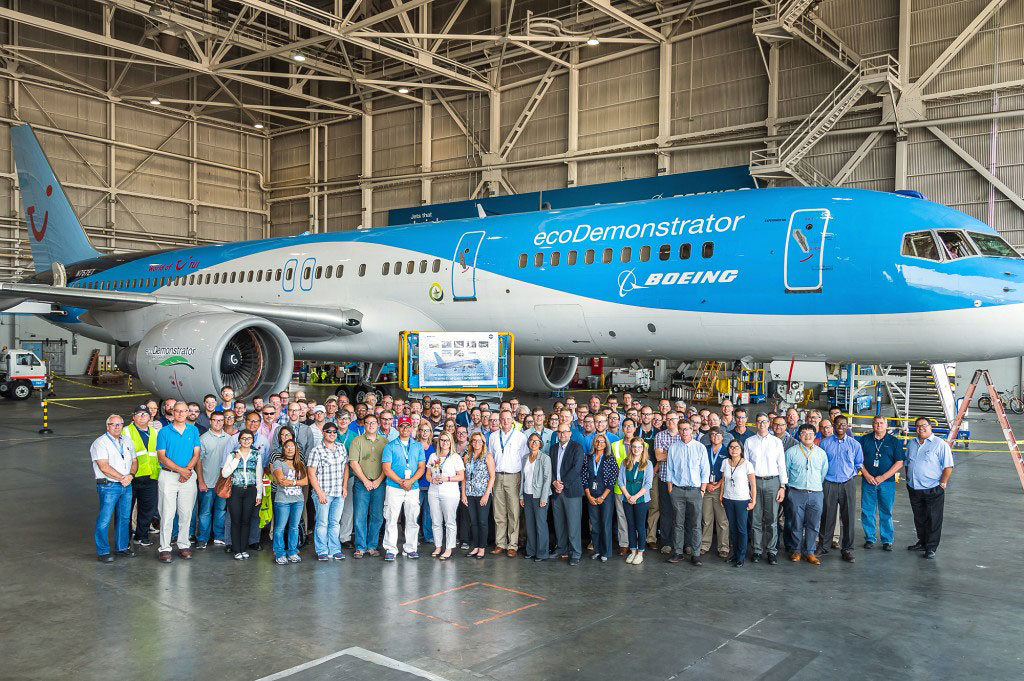 Christensen credits the aerospace program at Iowa State for giving him a solid foundation of knowledge on aerodynamics and aircraft design. "As part of my coursework, I actually got to take flight lessons, so I did a few hours of training and a few hours of flight time," he said. "Being in the seat and flying an airplane gives you a good appreciation of how an airplane works."
After he completed his degree in aerospace engineering at Iowa State, Christensen said he knew right away he wanted to work with commercial planes. "I had other offers, but I ended up going to Boeing in Seattle and started as an aerodynamicist. I kind of grew up at Boeing designing wings so this was a natural fit for me."
As the program manager for the ecoDemonstrator project, Christensen is hoping to find a way to get students, specifically Iowa State students, involved in the future. "Obviously a student-led project won't be an all new wing or tail like we did on the 757 ecoDemonstrator, but it'll be some way of working with Iowa State to give the students an opportunity to fly real technologies on an airplane."