Jerry Allen, a 1955 Iowa State University graduate, has led a life full of twists and turns, but through it all he found a way to make the most of things.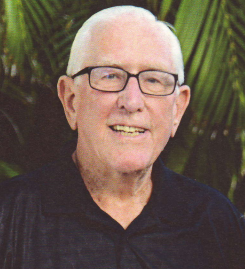 Beginning his adventure in the fall of 1950, Allen came to Iowa State University on a football scholarship. Allen hoped to undertake the industrial psychology program to learn how to understand a person better while still making a living.
But when Allen's father, who worked for John Deere, helped him receive a co-op with the company performing work similar to industrial engineering, Allen discovered his calling. He soon switched his major to industrial engineering, which was a sub-course labelled under general engineering at the time.
The next big change for Allen came during the fall of his sophomore year when he injured his ankle. The injury combined with the heavy course load required by the engineering program resulted in Allen dropping out of football. He had lived with other athletes in what is now the defunct Clyde William Field or "East Stadium," so he had to move to Friley Hall. He quickly adjusted to the new living quarters and was able to find a place to provide leadership to others as house president and eventually a resident assistant.
Being only one of six students in industrial engineering, Allen went on to help create the Industrial Engineer Honorary Society. He noted that being placed in honorary helped bolster the students' resumes. Eventually, the society would go on to be absorbed by the national organization.
During Allen's 5th and last year, he married his wife Bev, a University of Northern Iowa graduate. They lived together in Pammel Court, a housing complex originally made for the surge of enrollment from World War II veterans that were married.
After graduation in 1955, Allen's leadership opportunities at Iowa State University led him to success in his career. As a Department of Defense engineer, he served the Air Force in Japan where he was charged with relocating a military family housing facility to make way for the 1964 Tokyo Olympic Village. Later in Hawaii, he assisted the Pacific Air Force Command in developing air bases in Viet Nam and Thailand.
During Allen's time with the Naval Facilities Engineering Command (NAVFAC), he created a process that identified the optimal budget allocation for naval facilities all across the Pacific using regression analysis. Expecting backlash from field commanders, Allen's admiral remarked, "You are a real industrial engineer!" as there were no complaints about the new budget.
Allen enjoyed his time with NAVFAC but didn't like being away from his family for three to six weeks at a time. That's when he decided to move into the private industry and began dealing with the financial aspects of industrial engineering. This prospered into the position of vice president of corporate planning for the well-known company Mauna Loa Macadamia Nut Company.
Even though Allen has lived in Hawaii for a majority of his life, he has always felt a special connection to Iowa State University. Whenever alumni events are held in Hawaii, he always makes it a goal to attend, and he's a regular donor to the Iowa State University Foundation for the industrial engineering program. Allen has even been the tour guide for Iowa State University's previous president when he visited Hawaii.
According to Allen, Iowa State University taught him that there is always a way.