An Iowa State University professor researches new technologies to prevent post-harvest loss and promote global food security.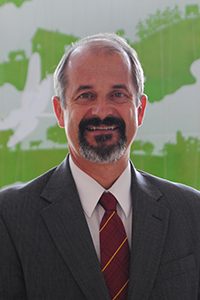 Being able to feed the world is a monumental undertaking, but Dirk Maier, a professor in the Department of Agricultural and Biosystems Engineering, is utilizing computer simulations and inexpensive drying and storage technologies to help smallholder farmers save more of their harvests.
Maier's research focuses on post-harvest loss prevention and global food security. He first got interested in the topics as an undergraduate at Michigan State University and then continued the work as a graduate student. During that time, Maier participated in industry-funded projects concerning the cooling and preservation of feeds and helped develop a counter-flow cooler that is now the industry standard for controlling moisture in feeds. Maier continued to work with food security into his Ph.D., focusing on preservation of stored grains and grain-based products using non-chemical techniques.
He began his career at Purdue University and progressed through the academic ranks of assistant, associate, and full professor. Maier left Purdue to become the department head of grain science and industry at Kansas State University, where he led the department's teaching, research and outreach programs. He also served as director of K-State's International Grains Program Institute and is the founding director of the USAID-funded Feed the Future Innovation Lab for the Reduction of Post-Harvest Loss for which he served as the lead principal investigator.
Maier's return to a faculty position led him to Iowa State University, where he has an appointment in research and outreach and serves as the associate director of the Global Food Security Consortium. He will work with the domestic as well as the international grain and feed industries and continue his research on post-harvest loss prevention and food security.
He wants to preserve harvested grains such as cereals, pulses and oil seeds. Maier explains that a major issue with many regions around the world is the lack of inexpensive, effective drying and storage technologies. That can lead to problems such as mold and insects that destroy large quantities of harvested crops. Maier hopes his research will impact smallholder farmers in areas such as Central America, Africa, South and Southeast Asia where staple crops sustain the population's livelihood.
"If 1/3rd of everything you produce is spoiled or wasted, that represents significant resources in terms of soil, fertilizer, water and energy for production and transportation. We're trying to move toward sustainable food production to feed the world by teaching the world to feed itself," he says.
Maier recently spent time in the western highlands of Guatemala to study indigenous populations and their farming methods. He and several undergraduate engineering students were able to adapt technology used by smallholder farmers in the USA 50 years ago to design an efficient drying system for the region.
"Ideally, we want to teach how to do it yourself rather than just give the tools and resources to do it. If we teach these communities how to build these technologies from local materials, they can share the equipment or provide services around the community," he says.
Maier has also been developing computer models to simulate the processes of drying and storing grains and feeds in different environments. The simulations can be used to answer "what if" questions, such as "What if we use alternative fuel sources for the drying process?" or "What if we improve the design to hermetically seal storage equipment?" The models also allow Maier to tweak any variable that could affect the drying and storage processes, such as moisture levels, temperature, gas movement, building shape, building material, weather conditions, and biological activity (insects, molds, and respiration).
While Maier is not currently teaching any undergraduate courses, he is working with faculty colleagues on developing distance education courses. He hopes to expand upon the effort and help make Iowa State the global leader in providing continuing education and accreditation of professionals in the grain and feed industry. Maier also is looking to get involved in developing new graduate courses.
Outside of his work, Maier enjoys cycling and has already signed up for RAGBRAI next year, though when it comes to the ride across the State of Iowa, he jokes, "I'm not sure what I'm getting myself into." He is excited to be at Iowa State and believes the university provides great facilities and career opportunities for students as well as a great working environment for faculty and staff.