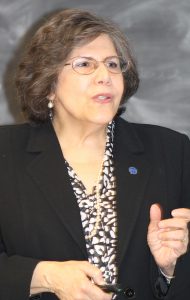 CBE faculty and graduate students welcomed Dr. Maria Flytzani-Stephanopoulos December 10, as she delivered a special presentation as the L.K. Doraiswamy Honor Lecturer.
The L.K. Doraiswamy Honor Lectureship in Chemical Engineering selects one internationally recognized scientist or engineer each year to present lectures at Iowa State University and at the National Chemical Laboratory in Pune, India, the home of Doraiswami. The late Dr. Doraiswami was a faculty member of the Department of Chemical and Biological Engineering at Iowa State from 1989 to 2011 and was an Anson Marston Distinguished Professor in Engineering.
Flytzani-Stephanopoulos presented "Heterogeneous Catalyst Design at the Single Atom Limit: A Diverse Reaction Landscape." Her pioneering research work focuses on understanding metal-metal and metal-oxide interactions at the atomic scale to guide processes for hydrogen and chemical production, and to maximize yields of desired products while using only trace amounts of expensive metals.
She is a Distinguished Professor in the School of Engineering at Tufts University and directs the Nanocatalysis and Energy Laboratory. She is a member of the prestigious National Academy of Engineering, has published more than 150 technical papers, and holds 10 U.S. patents.