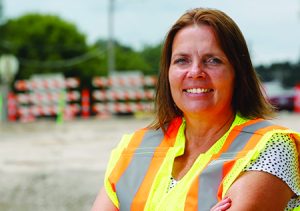 The following is an excerpt from Go!, an online magazine produced by the Iowa State University Institute for Transportation intended for teens on education and career opportunities in transportation. Jacqueline Nester writes:
"Science is not a boy's game, it's not a girl's game. It's everyone's game. It's about where we are and where we're going," said Nichelle Nichols, former NASA ambassador and actress.
Science and technology are the tools engineers use to solve real-world problems and improve the world around us. The best part is that you don't have to be a man to be good at using these tools.
This month's series is dedicated to women who have faced overt discrimination while working and studying in the engineering profession, and, most importantly, how they persevered under extreme pressure (See our Women engineers of the 20th century series).
But times have changed, right? To find out, I spoke with the Director of the Institute for Transportation (InTrans) and professor at Iowa State University, Dr. Shauna Hallmark. As a woman who has worn many hats throughout her life—an engineer, director, teacher, mother—her experience and hardships show what it is truly like to be a women engineer today.
Read more here.