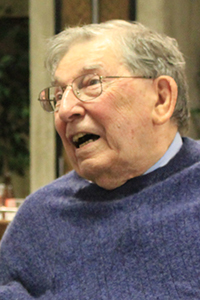 The Department of Civil, Construction and Environmental Engineering at Iowa State University celebrates the life of E. Robert "Bob" Baumann – international educator, engineer and pioneer of Iowa State's environmental engineering program. He died in Ames on Oct. 23, 2015, at age 94.
Baumann, Anson Marston Distinguished Professor Emeritus in civil and construction engineering, brought environmental engineering to Iowa State in 1953. He was one of only three U.S. environmental engineering doctoral graduates at the time, establishing what would become an exceptional 38-year career in teaching, research, and service. He retired in 1991, 12 years before the Department of Civil and Construction Engineering was renamed the Department of Civil, Construction and Environmental Engineering.
"My dad's greatest legacy is the immense impact he had on students," said Betsy Baumann, Bob Baumann's daughter and retired project manager at Iowa State's Institute for Social and Behavioral Research (now Survey Research Services in the Center for Survey Statistics and Methodology). "When he taught or advised, he combined technical aspects with real human connections."
Bob built an international network of former students – from Israel, Hungary, and Turkey, many other countries – whom he kept in contact for years and decades after they graduated.
Iowa State archive papers noted that Baumann interviewed for associate professor with then-Iowa State President James Hilton on Hilton's first day – July 1, 1953. Upon hiring Baumann two months later, Hilton stated: "We don't know what you will need to develop this new, important field of environmental engineering, but we will depend on you and will support you."
Baumann's first Iowa State research endeavor came at a crucial time in Iowa's history. In 1953 the state of Iowa faced a major swine epidemic – vesicular exanthema – killing millions of swine that year. He led a U.S. Public Health Service project, in coordination with Iowa State's veterinary microbiology program, to establish criteria for killing swine disease organisms in garbage. His research led to the ban of uncooked garbage fed to swine, which also led to reduced trichinosis (disease caused by eating uncooked meat) risks for people.
"My dad took a lot of joy in new things, and his timing was extremely lucky," Betsy said.
Jack Cleasby, Anson Marston Distinguished Professor Emeritus in civil and construction engineering and National Academy of Engineering member, joined the department as an instructor and became one of Baumann's first doctoral students in 1954. "Bob was remarkably successful in seeking graduate student support, gaining financial support from industry, state government and federal government sources," Cleasby said. "All of this led to recognition that Iowa State had one of the leading environmental engineering programs in the country." Cleasby retired in 1993.
The late Paul Morgan was a former civil engineering professor, associate dean in engineering, and one of Baumann's first master's students. He joined Baumann and Cleasby to build Iowa State's sanitary engineering program. Iowa State transitioned sanitary engineering to environmental engineering in the 1980's. Morgan died in 2013.
Baumann embarked on countless more research water and wastewater treatment projects, which had local and international impacts. As Baumann established countless partnerships with government, academia and industry, he garnered accolades from the American Water Works Association, the Water Pollution Control Federation, the Filtration Society of Great Britain, the Iowa Engineering Society, Sigma Xi (the Scientific Research Society), the American Academy of Environmental Engineers, the Association of Environmental Engineering and Science Professors, and the American Chemical Society.
Baumann served on and led many national and international societies throughout his Iowa State tenure, including top roles at the National Society of Professional Engineers, American Society of Civil Engineers Iowa Section, the Water Pollution Control Federation, the American Filtration and Separation Society, the Association of Environmental Engineering and Science Professors (also a founding member), the Iowa Conference, and the American Association of University Professors. He also was a member of the Iowa State Research Foundation, the Iowa State Board of Health, and the Iowa Water Works Association. From 1959 to 1960 he was a National Science Foundation Science Faculty Fellow at Durham University in Newcastle-on-Tyne, England.
In November 1977 he delivered the Iowa State University Commencement address, giving a speech entitled "Facing Future Challenges."
Public Works Magazine featured Baumann on the cover of its December 1979 issue, stating that he was "a major contributor to environmental engineering education and practice."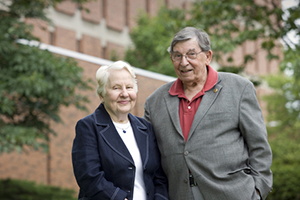 Baumann earned his bachelor's degree in civil engineering at the University of Michigan in 1944. He served in the U.S. Army Corps of Engineers during World War II before earning bachelor's, master's and doctorate degrees in sanitary engineering from the University of Illinois. Baumann taught and conducted research there from 1946 to 1953. He married Mary Massey in 1946, and they raised two children, Philip and Betsy, in Ames. Betsy was born in Urbana, Ill., in 1948, and Philip was born in Ames in 1953.
Baumann and his family have reflected hard work and talents with Iowa State contributions. They established six funds throughout the university, including the Dr. Robert R. and Alma Schumacher Massey Scholarship in liberal arts and sciences, the Dr. Philip R. Baumann Graduate Scholarship in political science, the Betsy L. Baumann Graduate Scholarship for African-American psychology students, the Baumann/Cleasby/Dague Professorship in Environmental Engineering, the Mary Massey Baumann Psychology and Music Scholarships, and the E. Robert Baumann Scholarship for graduate students in environmental engineering.
"My dad brought us up to be independent and socially intelligent," Betsy said. "We feel his absence at the dinner table – a place where we caught up with current issues and life."