Story originally published by The Ames Laboratory.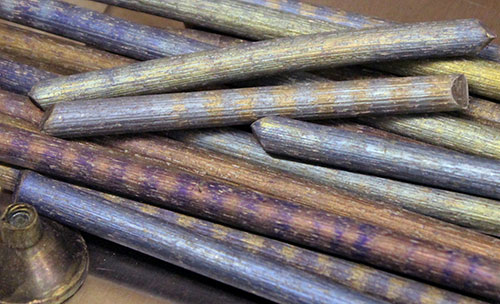 The U.S. Department of Energy's Critical Materials Institute and Iowa State University are offering aunique educational opportunity to get an in-depth overview of the rare-earth metals in a senior and graduate level course offered online spring semester 2016.
The rare earths make up only a small part of the broad field of materials science, but are the subject of intense interest as their use in energy technologies and consumer electronics create increased global demand.
"Rare earths were never considered mainstream materials science, but today they dominate a lot of big conversations—scientific, environmental, economic," said Critical Materials Institute researcher and Iowa State University Distinguished Professor Vitalij Pecharsky, who will be teaching the course. "And yet there is little in the way of them as a specific topic of instruction like this class.  I don't believe anything like it is offered anywhere else in the U.S."
The three-credit engineering course, MSE 457-557, covers nearly every topic related to rare-earth metals, including minerals, ores, extraction, separation, metal preparation and purification;  crystal structures, phase transformations, polymorphism, and thermochemical properties; chemical properties; and physical properties: mechanical, elastic, and magnetic.
The course is a revival of and based upon a two-credit course taught at Iowa State for over 30 years by Karl Gschneidner, Jr., a long-time rare-earth metals expert at Ames Laboratory and Iowa State, and now the Chief Research Officer at the Critical Materials Institute.
"With the Critical Materials Institute, Ames Laboratory, and Iowa State University's long-standing reputations in rare-earth metals and materials science, it makes natural sense to offer this course here," said Pecharsky.
"Educational opportunities are a fundamental part of Ames Laboratory's and the Critical Material Institute's outreach," said CMI Director Alex King. "The future of rare-earth sciences will depend on the bright minds we're able to reach and teach now."
For a full discussion of the course, see the Critical Materials Institute's webinar: https://cmi.ameslab.gov/video/public/cmi-webinar-vitalij-pecharsky-september-2015
The class is open to all through Iowa State's Online and Distance Learning program. For enrollment and tuition information, contact the Office of Admissions at Iowa State University, http://www.distance.iastate.edu/getting-enrolled/ and http://www.distance.iastate.edu/programs/tuition-and-fees/
The Critical Materials Institute is a Department of Energy Innovation Hub led by the U.S. Department of Energy's Ames Laboratory. CMI seeks ways to eliminate and reduce reliance on rare-earth metals and other materials critical to the success of clean energy technologies.
Ames Laboratory is a U.S. Department of Energy Office of Science national laboratory operated by Iowa State University. Ames Laboratory creates innovative materials, technologies and energy solutions. We use our expertise, unique capabilities and interdisciplinary collaborations to solve global problems.
Ames Laboratory is supported by the Office of Science of the U.S. Department of Energy. The Office of Science is the single largest supporter of basic research in the physical sciences in the United States, and is working to address some of the most pressing challenges of our time. For more information, please visit science.energy.gov.
Contacts:                                                                                                        
Vitalij Pecharsky, Ames Laboratory, Critical Materials Institute, 515-294-8220
Laura Millsaps, Public Affairs, 515-294-3473