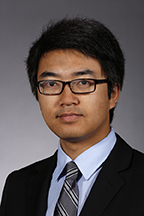 Electrical and computer engineering assistant professor explores how information security and privacy intersect with data science
As emerging systems such as social media and mobile computing continue to improve access to information like a map to your next destination or ways to keep up with your family's activities, these tools offer a growing range of benefits and conveniences to users.
Neil Gong is quick to add these systems aren't without drawbacks because they can also grant unwanted access to one's personal information.
Gong, who is a new assistant professor of electrical and computer engineering with a courtesy appointment in computer science, notes that severe consequences, such as economic loss, identity abuse and even national security are why he works to make these systems more secure and privacy preserving.
He first became interested in the area while he was working on his undergraduate degree in computer science. At the time, social networking services were starting to gain popularity.
"When I read news about a large number of user passwords in a certain social networking service being leaked, I realized the need to secure social media was growing in importance," Gong says. "A single security flaw could put the online safety of millions of users in danger."
He earned his degree in 2010 from the University of Science and Technology of China, where he also received the Guo Moruo Scholarship, the highest undergraduate honor at USTC. He then attended the University of California, Berkeley, where he received his PhD in computer science in May 2015.
Gong extends his work to projects focused on protecting children's online safety, constructing personalized recommendation systems to help users find appropriate mobile apps and modeling the evolution of neural networks.
"The security and privacy issues we are assessing also blend into the Internet of Things, which is how electronic objects gather and share information through networked components," Gong says. "This data science, including machine learning, network science and natural language processing, can play an important role in the design of trustworthy modern systems."
Students at Iowa State working in Gong's lab will have freedom to choose research projects they find most interesting. He says this adds to the depth of his work as there are many areas that need to be addressed.
Gong's research has appeared in top venues in the information security and data mining areas and has been covered by WIRED, NPR and ScienceDaily.