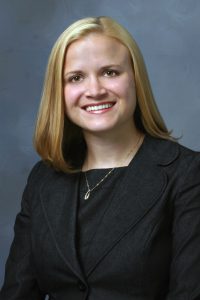 ME lecturer emphasizes interactive classrooms at Iowa State
Growing up in Ames means having Iowa State University in your backyard. For Margaret Mathison, it also meant the chance to experience engineering at a young age.
As a sixth grader, she and her friends built a solar-powered car and raced it at an event held on campus, and during the summer of her junior year of high school, Mathison attended an ISU engineering camp.
"Those hands-on, interactive learning opportunities have really stuck with me. I try to integrate that same approach in my classrooms, because it works so well for keeping students engaged in the subject," she said.
Mathison, who graduated from Iowa State in 2005, will be putting her philosophy to work in mechanical engineering courses as a lecturer for the department.
While she says there's still a lot that's familiar about her alma mater, she's glad to see a great deal of growth and advancement has taken place on campus since she was last here.
"There are new buildings to explore and new technologies developed since I graduated," she said. "But in this discipline, you can always count on things like thermodynamics to stay constant. There's been a good balance of building and innovating in mechanical engineering."
During her time as an undergraduate student, Mathison spent nearly as many hours in the Music Hall as she did working on her engineering coursework. She says her hobbies enriched her college experience and continue to provide her with an outlet.
Her undergraduate years were also when she learned about heating, ventilating and air conditioning, the focus area that would eventually become her area of expertise. "HVAC was the one thing I said I'd never study, and it ended up being the area I liked the most. Moments like that made me realize how important it is to be open to different opportunities. You never know what you could be missing," Mathison said.
After she graduated from Iowa State, she earned a PhD from Purdue University in 2011 and then worked as an assistant professor of mechanical engineering at Marquette University for four years. She says her experience has taught her a lot about management as well as effective approaches in the classroom.
Now, she is teaching courses in mechanical engineering design and thermodynamics. "Design is a new area for me, but it's exciting to see how the course has evolved since I took it," Mathison said. "When I was here, we made adaptive devices for local children. Current students are designing micro-economy kits for developing countries."
Mathison will also work with Greg Maxwell, associate professor of mechanical engineering, to learn about the HVAC fundamentals and design courses he teaches. "Professor Maxwell taught me as an undergraduate and helped guide my career. It will be nice to continue learning from him in this new capacity," she said.
As she settles into her position, Mathison plans to get involved in the local and student chapters of ASHRAE – the American Society of Heating, Refrigerating and Air-Conditioning Engineers. She says Maxwell has built great connections between the HVAC courses he teaches and the professionals who are looking for HVAC engineers, adding that his coursework does a great job preparing students interested in this career path.
In her classroom, students can expect a mix of teaching styles.
"While there are a lot of new tools for teaching available, something as simple as giving students time to work on problems in class can make the experience more engaging and effective," Mathison says. "I'm looking forward to developing demonstrations and examples that allow students to relate their courses to their world."