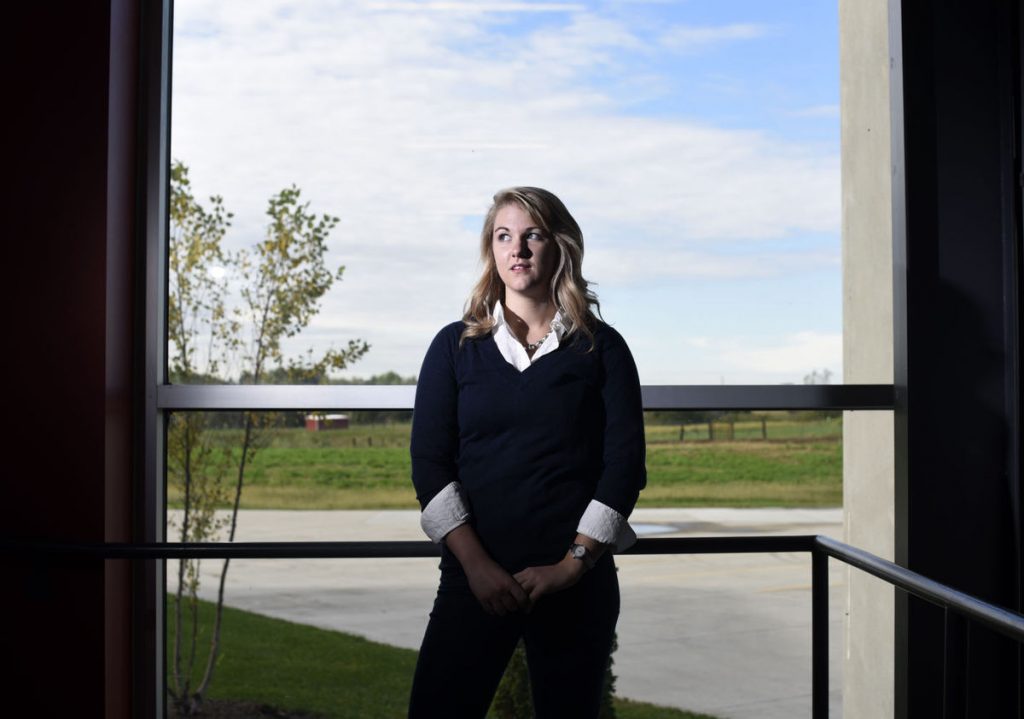 This post was originally published by Felipe Cabrera with the Iowa State Daily.
Jill Schoborg, senior in chemical engineering, stood in front of an audience of peers and policy makers on Capitol Hill to present her research paper on genetically modified organisms through the Washington Internships for Students of Engineering this past summer.
"[The internship program] looks for top-of-the-line students who have an interest in more than engineering," said Kenneth Lutz, a Washington Internships for Students of Engineering faculty member. "They want to find students who are interested in policy."
Since 1980, the internship program has been connecting engineers with the power of public policy. The program sends three engineering students from across the nation to Washington D.C. for nine weeks to learn about the public policy process and deliver an original 20- to 40-page research paper to present on Capitol Hill.
"I took that stereotypical eighth-grade field trip to D.C., where you go around and check out the monuments," Schoborg said. "I had no idea I would ever intern in D.C. … it was just not on my radar."
Derrick Rollins, university professor of chemical and biological engineering, said he knew the internship program would be ideal for Schoborg.
Rollins has worked with Schoborg since she was a junior in high school and said she has a passion for both the technical and communicational sides of engineering.
"[Schoborg] had to be able to communicate, read and network for her position over the summer," Rollins said.
Schoborg wrote a policy paper titled "To Label or Not Label: Addressing America's Genetically Modified Organism Policy" that targets the discrepancies surrounding the way genetically modified organisms are labeled.
"There are labeling discrepancies with the organic side," Schoborg said. "I tried to figure out a way to alleviate the discontinuity."
People often get confused about organic, non-GMO and all natural foods when shopping for groceries, thinking they all mean the same thing, Schoborg said.
She said if a label described a threshold of tolerance for what's in the food, it would send a clearer message to the consumer.
Gathering her research required Schoborg to reach beyond the scientific community. Washington Internships for Students of Engineering offered Schoborg a treasure trove of resources for her to conduct her research, including a library card that gave her full access to the Library of Congress.
Schoborg and her peers were able to study in any reading room in the library, including the main reading room that is barred off behind glass to the general public.
Schoborg said being able to do research at the library was a great experience.
Her research required her to track down sources outside of books and the scientific community, which increased the importance of extensive networking. She contacted lobbyists, congressmen, senators — anyone who could help her clear up the policy side of her research.
"Jill understands the technology and the policy implications," Lutz said. "So much of engineering is governed by laws and regulations."
Schoborg said getting in contact with high-ranking officials was sometimes difficult.
Some people were able communicate with her and relevant sources with ease, but she would sometimes only reach the secretaries. They gave her good information, but it wasn't the same as getting face time, where she could ask hard-hitting questions.
Schoborg said it was important for the policy paper to be legible for people who aren't familiar with technical terms, focusing more on policy and political implications rather than scientific background.
Schoborg said the interns spent a week preparing for their research presentation. They worked on making note cards and PowerPoints as road maps for the presentation.
The presentation took place on the House of Representatives side of Capitol Hill. Schoborg said the audience was small and made up of other interns, sponsors, representatives and family and friends.
"It was a little nerve-wracking because I've been working on it for so long," Schoborg said. "I knew what I was talking about, so it wasn't too bad."
She said her experience with the internship program made her better equipped to defend a stance she believes in. She said it reaffirmed her career goal to become a patent lawyer and her decision to move on to law school.
"Jill brought back with her skills she will carry forever," Rollins said. "I think she's more motivated and excited … it broadened her horizons and increased her passion and motivation."
The deadline for submitting applications to the Washington Internships for Students of Engineering 2016 summer internship program is Dec. 31.