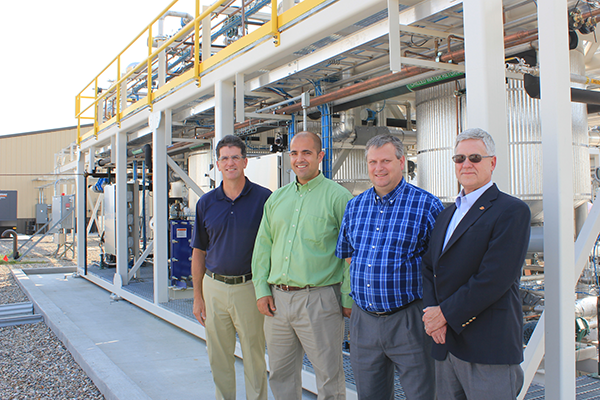 Iowa State University, in partnership with many state and national organizations, is one step closer to commercializing bio-polymers.
More than 200 Iowa State faculty, staff and students, as well as university corporate and government partners, celebrated the dedication of the $5.3 million Bio-Polymer Processing Facility August 26. The new facility at Iowa State's BioCentury Research Farm demonstrates private and public investment in commercializing bio-polymers, which can be used in sustainable, more environmentally friendly production of plastics and asphalt.
In 2011, an integral research partnership began between Chris Williams, the Gerald and Audrey Olson Professor of civil, construction and environmental engineering, and Eric Cochran, associate professor of chemical and biological engineering. Each professor recognized the benefits of bringing their teams together. "This facility represents tens of thousands of hours of concerted team effort by our researchers, colleagues, administrators, government officials, and business partners," Cochran said.
Williams spoke about the relevancy of research outcomes. "We fulfilled an industry research need, which bridges Iowa State University work with market demands for bio-polymers."
Brent Willet, executive director of Cultivation Corridor, moderated the dedication ceremony. Cultivation Corridor is an Iowa-based organization that works with public and private organizations to cultivate innovation and accelerate growth in the agbioscience, biorenewables, biotech and advanced manufacturing industries.
"The Bio-Polymers Processing Facility demonstrates a comprehensive public-private partnership stemmed from Iowa State ag and bio programmatic research," Willet said. "This is a tremendous growth opportunity for our state."
Other featured speakers were Mike Crum, Iowa State's senior policy advisor on economic development; Paul Trombino III of the Iowa Department of Transportation; Tim Whipple of the Iowa Economic Development Authority; Kirk Leeds of the Iowa Soybean Association; and Don Sjogren of Argo Genesis Chemical LLC, a key contributor to the construction of the Bio-Polymer Processing Facility.
"When I met with Chris and Eric, I saw a possible biorenewable source for asphalt in the state," Trombino said. "Producing sustainable, environmentally friendly asphalt improves rural connectivity in Iowa. It also improves roadway performance that meets global market demand for Iowa products."