The Department of Chemical and Biological Engineering has released its fall semester 2015 Graduate Seminar Series schedule. Part of the required curriculum for chemical engineering graduate students at Iowa State, the seminars are open to all engineering departments at Iowa State and all chemical and biological engineering departments nationally.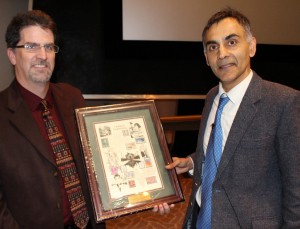 This fall's series spotlights not only researchers and officials from Iowa State University, but also representatives from universities and companies throughout the nation.
Some of the guest speakers this semester include Deepak Negrath of Rice University, presenting "Identifying Metabolic Vulnerabilities and Dependencies in Cancer;" Jindrick Kopecek, University of Utah, with "Frontiers of Biomedical Materials;" Keenan Deutsch of BASF discussing "A Transition Into Corporate R&D – From Developing Knowledge to Developing Products;" Cynthia Finelli of the University of Michigan, presenting "Promoting Faculty Adoption of Effective Teaching Practices;" Kaitlin Bratlie of Iowa State's Department of Chemical and Biological Engineering with "Altering Macrophage and Fibroblast Responses through Engineering Polymer Surface Properties;" Suljo Linic, University of Michigan, with "Electrochemical Oxygen Reduction: Kinetic Analysis and the Development of Ag- and Pt- Alloy Catalysts for Low Temperature Fuel Cells;" and Maria Flytzani Stephanapoulos of Tufts University, with "Heterogeneous Catalyst Design at the Single Atom Limit: a Diverse Reaction Landscape." Her presentation is part of the L.K. Doraiswamy Honor Lectureship in Chemical Engineering series. The lectureship honors L. K. Doraiswamy, a former Anson Marston Distinguished Professor in the Iowa State University chemical engineering program (1989-2001) and director of India's National Chemical Laboratory (1978-89). He was a global leader in chemical reaction engineering.
Seminars will be held at 171 Durham Center, from 11 a.m. – noon. The full Graduate Seminar Series schedule for this semester is available here or on the Events page of the Department of Chemical and Biological Engineering web site here
.