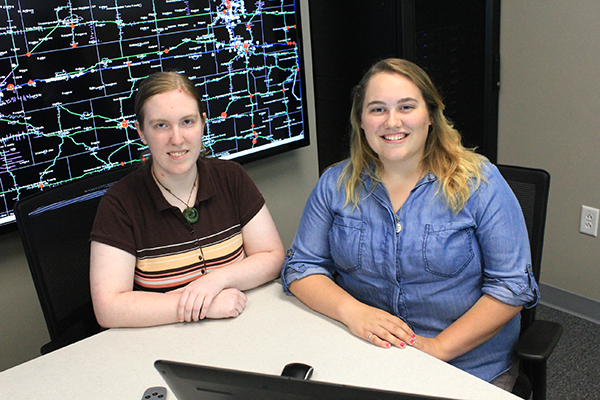 This fall Iowa State University's civil engineering program attracts two exceptional graduate students as Dwight David Eisenhower Graduate Fellows, a national graduate student award that the Federal Highway Administration (FHWA) sponsors.
Ellen Nightingale and Patricia Thompson, both master's students in civil engineering, bring a wealth of experience to Iowa State's transportation engineering research program. Each student will pursue research under the direction of Peter Savolainen, associate professor of civil, construction and environmental engineering at Iowa State.
The fellowship will grant Nightingale $31,500, which goes toward tuition, a stipend and travel to the Transportation Research Board (TRB) Annual Meeting in Washington, D.C. At the national conference she will present research about high-tension cable barriers on Iowa's highways – a project that partners CCEE with the Iowa Department of Transportation (Iowa DOT). "Iowa State's strong faculty-student mentoring style really attracted me to this research opportunity," Nightingale said.
Thompson will receive $11,500 and also will travel to the TRB Annual Meeting. She will present research on the development of crash prediction models for urban road segments in a project sponsored by the Michigan Department of Transportation (MDOT). These models will be used by MDOT as part of its continuing safety planning process, allowing for the proactive identification of promising candidate locations for safety improvements. "This research will allow me to further explore the transportation engineering field that I've become acquainted with through practical experiences," Thompson said.
Both Nightingale and Thompson graduated from Michigan Technological University in May 2015. Throughout their undergraduate careers, each student excelled in academics, internships, and community service. Nightingale was active in Chi Epsilon (civil engineering honor society), Tau Beta Pi (engineering honor society), and the MDOT Transportation and Civil Engineering Program. Thompson also participated in Chi Epsilon and Tau Beta Pi while pursuing industry internships, math tutoring, and leadership in the Society of Women Engineers.
FHWA's Dwight David Eisenhower Transportation Fellowship Program advances the transportation workforce by attracting the brightest minds to the field through education, research, and workforce development. In addition to the Eisenhower Graduate Fellowship, the program offers seven fellowship programs to top transportation-related students in Historically Black Colleges and Universities (HBCUs), Hispanic Serving Institutions (HSIs), and community colleges.
Learn more about Iowa State's student and faculty contributions to transportation engineering research.