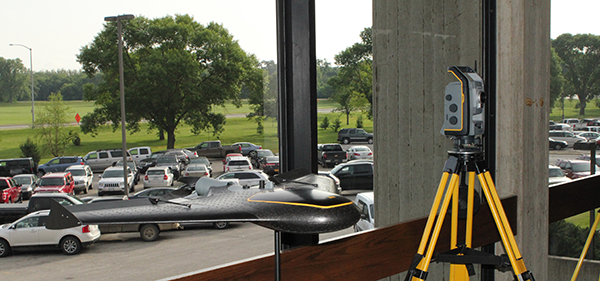 More than 100 engineers, professors, and project administrators from throughout Iowa, the U.S., and the world gathered at Iowa State University June 2-3, 2015, for the inaugural Conference on Autonomous and Robotic Construction of Infrastructure (CARCI).
Construction technology experts discussed knowledge and practice in advancing autonomous and robotic-guided equipment that improves construction productivity, quality, reliability and safety. Twenty-six representatives from a dozen universities, government agencies, and construction technology groups in Iowa and throughout the world presented.
David White, Richard L. Handy Professor of civil, construction and environmental engineering and director of the Center for Earthworks Engineering Research (CEER) at Iowa State, helped lead the conference. "I think that many new and exciting discoveries are on the horizon," White said. "Our next step will be to continue to develop newly forged relationships and seek input from international organizations and industry in terms of research opportunities and future conferences."
Miroslaw J. Skibniewski, A. James Clark Chair Professor in the Department of Civil and Environmental Engineering at University of Maryland, led a keynote speech on the development of robotics used for road construction and maintenance.
Researchers and administrators from Iowa State University, the Iowa Department of Transportation, Caterpillar, Inc., and the U.S. Army Engineer, Research and Development Center collaborated to plan the conference. CARCI sponsors included Caterpillar, Inc., the Iowa Department of Transportation, the Midwest Transportation Center (MTC) at Iowa State University Institute for Transportation, the Iowa State University Department of Civil, Construction and Environmental Engineering (CCEE), and the Center for Industrial Research and Service (CIRAS) at Iowa State University.
| | | |
| --- | --- | --- |
| An Chen, assistant professor in CCEE, presents on the applicability and limitations of 3D printing for civil structures. Photo courtesy of ISU Institute for Transportation | David White, Richard L. Handy Professor in CCEE, presents on emerging technologies for continuous earthwork construction monitoring. Photo courtesy of ISU Institute for Transportation | Yelda Turkan, assistant professor in CCEE, presents on bridge structural condition assessment using 3D imaging. Photo courtesy of ISU Institute for Transportation |