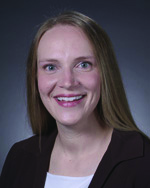 Jenny Baker, senior lecturer in civil, construction and environmental engineering at Iowa State University, was recently named to Consulting-Specifying Engineer (CSE) magazine's "40 under 40." Baker will officially be recognized at a CSE awards ceremony in Chicago Sept. 29.
CSE's "40 under 40" recognizes 40 industry professionals age 40 and younger who stand out in all aspects of their lives; but in particular, these individuals support the building industry within the engineering community.
"It is an honor to be recognized with some of the top young consulting engineers in the country," Baker said. "Now that I work in an academic environment, I enjoy educating future members of the electrical building systems industry."
Read Baker's CSE "40 under 40" profile.
Baker joined the Department of Civil, Construction and Environmental Engineering in August 2007. Since then she has excelled as an instructor of electrical systems in buildings (CON E 353) and co-advisor of the award-winning Iowa State chapter of National Electrical Contractors Association. She also has volunteered as a speaker, on several occasions, for the Program for Women in Science and Engineering (WiSE) at Iowa State. From 2007 to 2013, she concurrently served Farris Engineering as an electrical engineer and lighting designer.
Baker earned her bachelor's degree and master's degree in architectural engineering at Kansas State University. She is a licensed professional engineer in Iowa, a Lighting Certified Professional and a LEED Accredited Professional (AP).
Consulting-Specifying Engineer, published by CFE Media LLC, is a monthly publication serving the nonresidential building industry. It covers mechanical, electrical, plumbing, and fire/life safety engineering for commercial, industrial, government, health care, and high-tech buildings.