This story was originally published by Kyle Heim with the Iowa State Daily. 
Three commencement ceremonies this weekend gave Iowa State over 4,000 new alumni.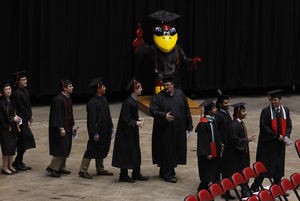 The Graduate college commencement happened Friday, with an address by Susan Lamont, C.F. Curtis Distinguished Professor in agricultural and life sciences.
"I propose to you tonight that when you follow your own internal compass guided by your own personal set of wisely chosen and deeply hallowed values, then you will have a life of satisfaction and a life that will make a significant contribution to society and to the world," Lamont said. "Because I know that 10 years from now it will make a difference that you graduated from Iowa State University."
More than 450 ISU students earned their master's degree at the Graduate College commencement and more than 100 earned their doctoral degrees.
ISU graduate Robert Bouda, who earned his master's degree in electrical engineering, spent four years obtaining his bachelor's degree before spending another two getting his master's.
"My adventure at Iowa State has been great because I met a lot of my friends over here," Bouda said. "My major professor was really great with me as well because with him you got to see a different perspective as far as how to learn things as well as how to actually get to know people."
The College of Veterinary Medicine and undergraduate commencements followed on Saturday.