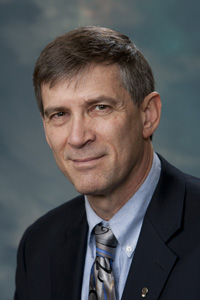 Raymond "Paul" Giroux (BSConE'79), a senior engineer at Kiewit Bridge and Marine, is a recipient of the American Society of Civil Engineers (ASCE) Cleveland Section's G. Brooks Earnest Annual Technical Lecture Award. Giroux will officially be recognized this October at ASCE Cleveland Section's Award Dinner.
The G. Brooks Earnest Annual Technical Lecture Award is presented to an outstanding individual of national or international prominence who demonstrates leadership and inspiration in the education of engineers.
Giroux devotes much time to teaching industry and academia about the world's engineering past, often told through notable projects. He was a featured speaker at major anniversary celebrations of the Golden Gate Bridge, Brooklyn Bridge, Hoover Dam, and the Panama Canal. Giroux has also presented at nearly 60 engineering schools and 50 professional and public venues regarding his historical engineering research.
His historian work garnered the 2013 ASCE Civil Engineering History and Heritage Award.
The prestigious G. Brooks Earnest Award was established by the Cleveland Section of ASCE in honor of G. Brooks Earnest, who was its president in 1943, national president of ASCE in 1962, and president of Fenn College from 1952 until the formation of Cleveland State University in 1964. Notable past G. Brooks Earnest Award recipients include geotechnical engineering pioneer Ralph Peck, construction-heavy emphasis pioneer Ben Gerwick, steel structures pioneer John Fisher, and pre-stressed concrete pioneer T.Y. Lin, among many others.