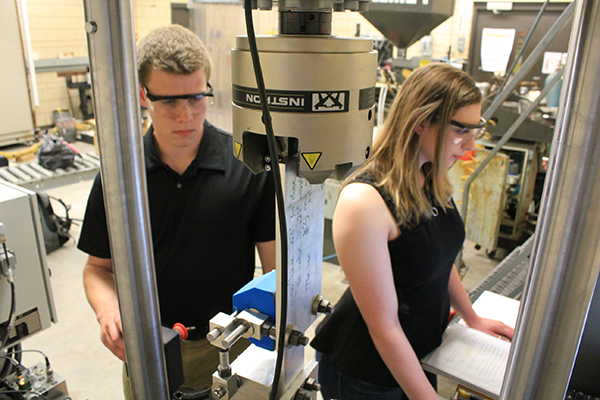 Three freshman honors students used 3D printing technology and more to conduct structural engineering research with Simon Laflamme, assistant professor of civil, construction and environmental engineering at Iowa State University.
Students involved in the project were mechanical engineering freshman Heather Murphy, pre-industrial design freshman Derek Coulter, and industrial engineering freshman Connor Theisen. They participated in a project that the National Science Foundation awarded Laflamme in 2013. Students fabricated structural parts using a 3D printer, a process that would otherwise be very expensive and difficult using conventional fabrication methods. In particular, structural parts, like the passive damping element pictured above, have been designed to reduce vibrations in buildings.
Each undergraduate student in Laflamme's group was involved with all of the components of research: from thinking to analysis of data and reporting. "This way, they got a good idea of what is expected in the world of research," Laflamme said. "Students learned to work in a group, how to communicate results, and to develop an intellectual curiosity."
Coulter said his expectations were "shattered" while conducting the research experience. "The experience to design something real so early is something that will give me an edge as I move on in college and into a career of designing products," he said.
Murphy was excited about seeing results of what she and other students spent so many hours doing. "It wasn't just on paper, and we did something beneficial to the future," she said.
Laflamme's students took advantage of the Iowa State University First-Year Honors Mentor Program. This program partners faculty mentors with Iowa State honors students to experience research first-hand. "We involve college freshmen to provide them with an opportunity to get a valuable research experience," Laflamme said. "They are also highly encouraged to bring creative solutions to the table, which empowers them with great problem management skills."