Iowa State University Learning Communities help students build technical skills and social skills within their major and throughout campus. Three civil, construction and environmental engineering (CCEE) students exemplify peer mentorship that makes these Learning Communities some of the best in the nation.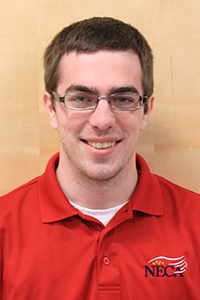 Construction engineering senior Joe Hahn, construction engineering senior Peter von Qualen, and civil engineering senior Tyler Wilson were recently recognized as 2014-2015 Iowa State University Exemplary Peer Mentors. They were honored at the Peer Mentor Recognition Celebration April 8 in 0022 Sukup Hall.
The awards program honors outstanding achievement by peer mentors who set positive examples for students and support the academic goals of Iowa State University. Nominators rated peer mentors on communication, leadership, interpersonal interaction, academic assistance, creative use of technology, curriculum planning, classroom presentations, and classroom facilitation.
Hahn has been a peer mentor for the Construction Engineering Cornerstone Learning Community since the spring 2014 semester. He said he was inclined to create great student experiences after taking the Learning Community courses (CON E 121 and CON E 122). "I enjoy the one-on-one meetings with students as I help them adjust to college, develop a four-year plan, and assist with anything else they want to talk about," Hahn said.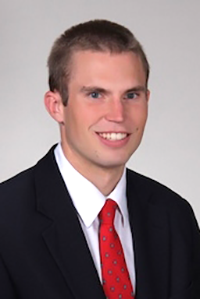 Hahn also noted that he developed transferable public speaking skills as a mentor. "When you first meet a class of students, you set a leadership example as a mentor." Public speaking experience, he said, helped him present the nation's best Green Energy Challenge project.
Von Qualen, who also has been a Construction Engineering Cornerstone Learning Community peer mentor since the spring 2014 semester, gained the experience of speaking in front of large classes and leading small-group discussions. "The skills I learned from being a peer mentor will be used every day in my career." After graduating this May, von Qualen will work for McCarthy Building Companies.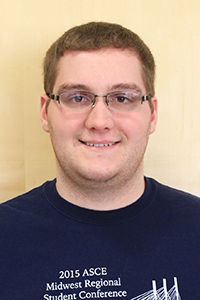 Von Qualen leads a life of mentoring. In addition to peer mentoring, he has been a teacher's assistant for Iowa State's construction and mechanical/electrical materials and methods courses, president of Beta Sigma Psi fraternity, an eighth grade mentor for Ames-based Great Relationships in Pairs (GRIP) Mentoring, and a Sunday School teacher for Memorial Lutheran Church in Ames.
Wilson was a peer mentor in the Civil Engineering Learning Community (CE 120) in the fall 2012, fall 2013, and fall 2014 semesters. "I wanted to help students as soon as I finished the course," Wilson said.
Wilson also enjoyed the one-on-one sessions with students, helping them develop top-notch résumés, meet fellow civil engineering students, and coordinate campus scavenger hunts to get students acquainted. Even though Wilson is no longer a Learning Community peer mentor, he still gets emails from former students to help them with college life. "This was a great opportunity to give back what I received in the Learning Community."