Would the fastest designer in the room please stand?
For 16 years, the fastest designers have been standing up to accept prizes at theSOLIDWORKS World convention. Every year there is a competition called Model Mania. In this contest designers are given a drawing of a part never before seen. They then have to create a model of this part, run through a redesign of the part and finally perform a simulation analyzing the forces applied. The rules are laid out, but the technique is not.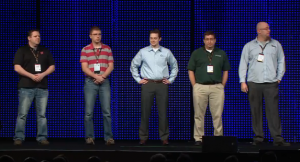 We recently talked with Nick Vande Waerdt, the contest winner this year from Kooima, a company we are quite familiar with. Nick is a design engineer and started down the design path after graduating from Iowa State. He has a natural draw toward engineering and modeling and also has experience with this competition.
Kooima is an Iowa centered company that focuses in two main areas. The agriculture machinery branch creates parts for machines such as harvesters, combines and mixer wagons. The fabrication division produces custom parts in a variety of industries like automotive, exercise and food processing. Their fabrication and industry capabilities are only rivaled by the size of their commitment to employee success. This is the 8th year that Nick has been able to go to the convention. He enjoys Kooima Company because of how they equip their employees with the latest technologies and best tools to get the job done, an integral one being SOLIDWORKS, he said. You can find news of their latest expansion on their website – it's a warehouse that will be fully automated.
What is your background Nick?
I graduated from Iowa State in Ames, IA as a mechanical engineer and then went right to work for Kooima Company. Before that I grew up on a farm pretty close to Kooima actually. It's nice to have that background in what I do.
Was this the first Model Mania contest you've competed in?
No, I like to try it. I ended up winning the 2010 contest in Anaheim CA, and also took 3rd in 2012.
What did you think of this year's part?
They had a similar methodology to the contest which was familiar, but tough. I do know that I didn't model it quite like they showed it afterward; I took a little different approach.
What was the thought process you used in attacking the redesign?
First I made sure I had my own SOLIDWORKS settings along just like I use at work. I also knew that there would likely be a major redesign going into it so I adjusted my design intent for that. I used delete face to get rid of the frontal lobe portion of the old design so that the feature patterns were left intact.
How did you become such a fast modeler?
I've always liked CAD software. Ever since high school I've kind of latched on to it. You can learn just by working with it and messing with new features and productivity methods. Even if I find that I've done something the old way I'll force myself to go back and use the new way.
What factors do you think translate from the competition to your design work?
The faster you are the more you can get done in a day. You're also able to try out new concepts if you're faster at them.
Any tips for beginning learners of SOLIDWORKS from someone who's at the top?
I like what Bre Pettis, the founder of MakerBot, said. Something like "everything is a rough draft, the quicker you can get it done the quicker you can move on to the next new thing." So don't spend too much time making it perfect because it's going to change very quickly. And it's a ton of fun, everyone loves to see things in 3D.
Check out a video of the Model Mania contest on the Alignex YouTube channel to see what they modeled.
This article was originally published on the Alignex Blog.