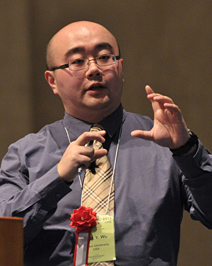 Dr. Yue Wu, Associate Professor and Herbert L. Stiles Associate Professor in the Department of Chemical and Biological Engineering, has been nominated to receive the Council for Chemical Research (CCR) Rising Star Award.
Wu will be recognized at the Council's 2015 Annual Meeting in Alexandria, VA on May 5, along with six other individuals nominated by different sectors of the Council as professionals expected to be influential leaders in the future.
As part of the recognition he will display a poster that he will create which presents his research. Those posters will be displayed at the conference and highlighted during a special reception that day. His presentation will feature his work in using nanostructured materials for waste heat recovery and solid state cooling.
Wu joined Iowa State University as the Herbert L. Stiles Associate Professor of Chemical and Biological Engineering in the summer of 2014. He obtained his B.S. in chemistry at the University of Science and Technology of China, Hefei, Anhui, P.R. China in 2001, with the Best Undergraduate Thesis Award. He obtained his Ph.D. in chemistry at Harvard University in 2006 and was a Miller Fellowship for postdoctoral work in Chemistry at the University of California at Berkeley in 2009. As an undergraduate student, he did research in solution-phase synthesis of nanostructured materials, and published 13 peer-reviewed papers in well-cited journals, including the Journal of the American Chemical Society and Inorganic Chemistry. His Ph.D. research led to ten publications, including two in Nature, one in the Proceedings of the National Academy of Sciences, one in the Journal of the American Chemical Society, and four in Nano Letters.
CCR links research and development leadership across discipline, institution, and sector boundaries to profoundly influence the success of chemistry-related science and engineering research in serving society. The Rising Star is a new addition to its list of awards.