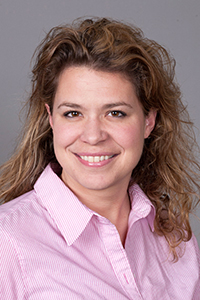 JoNette Kuhnau (BSCE'00, MSCE'01), project manager for Kimley-Horn and Associates, was recently named to Engineering News-Record's (ENR) Midwest Top 20 under 40.
ENR Midwest Top 20 under 40 recognizes young design and construction professionals from the region who have made significant contributions to their firms, professions and communities. In the case of Kuhnau, she has "emerged as one of the leading go-to experts in traffic signal and light-rail transit interfaces in Minneapolis, St. Paul, and other locations," according to ENR. Achievements include design and field support on more than 100 traffic signals in Minneapolis, an environmental impact study on a new stadium for National Football League's Minnesota Vikings, and much more.
Kuhnau has been employed at Kimley-Horn and Associates since 2007.
Her inspiration to pursue traffic engineering came when she interned at the City of Ames Public Works Department. In that role she saw all the water, sewer and roadway infrastructure going in for new developments. With new transportation projects, she experienced initial phases of planning, design and plan production, construction, and operations. "This really focused my interest on transportation," she said.
Kuhnau also attributes inspiration to her Iowa State University civil, construction and environmental engineering instructors. "Dr. Ken Brewer and Dr. Jim Cable (both now retired) encouraged my interests in transportation through their courses," she said.
Read more about Kuhnau's honor on the ENR website.