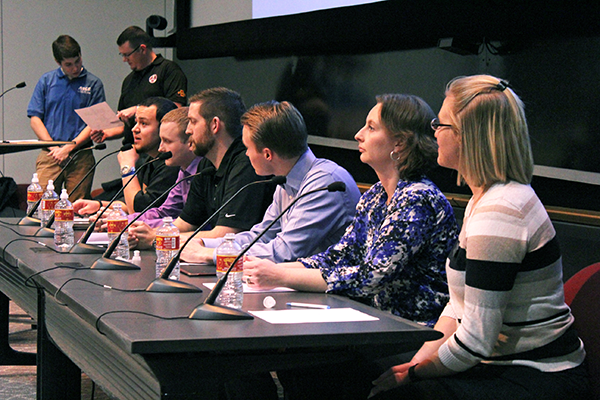 Civil, Construction and Environmental Engineering Graduates of the Last Decade (CCEE GOLD) and CCEE student organizations hosted the first-ever CCEE GOLD Recent Alumni Discussion Panel Jan. 29 in Howe Hall. Students gained first-hand advice of college-to-career transitions, work-life balances, and academic applications to life experiences.
More than 100 students networked with six recent alumni: Andrew "AJ" Barone (BSCE'12) from Raker Rhodes Engineering of Iowa City, Iowa; Nathan Hardisty (BSCE'10) from Shive-Hattery of West Des Moines, Iowa; John Puls (BSCE'07, MSCE'08) from Kiewit Engineering of Omaha, Neb.; Joel Sikkema (MSCE'11, PhDCE'13) from Dordt College of Sioux Center, Iowa; Allison Smyth (BSCE'10) from Iowa Department of Transportation of Ames, Iowa; and Gina Sundermann (BSConE'06) from Ryan Companies US, Inc., of Clive, Iowa.
Two students were masters of ceremony: Brady Lawler, concurrent civil engineering/MBA student and American Society of Civil Engineers Iowa State University chapter president, and Andy Reynolds, construction engineering senior and Associated General Contractors Iowa State University chapter president.
A diverse alumni panel brought a wide range of student interests. "Bringing in clubs from every part of the department was great," Lawler said.
View the event's photo album at http://on.fb.me/1DezW67.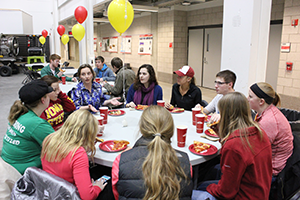 Panel members represented various sectors of the civil engineering and construction engineering professions, including small engineering firm (Barone at Raker Rhodes Engineering), regional engineering firm (Hardisty at Shive-Hattery), large engineering firm (Puls at Kiewit Engineering), academics (Sikkema at Dordt College), government (Smyth at Iowa Department of Transportation), and construction contractor (Sundermann at Ryan Companies US, Inc.). "We wanted to be prepared to answer any question from any student, regardless of the path they feel strongly about," Puls said.
A breakout session in the Howe Hall Atrium followed the formal panel discussion. "I saw many students eager to speak with a particular panel member about his or her experience," Puls said.
Kiewit Engineering, Raker Rhodes Engineering, and CCEE student organizations sponsored the event.
CCEE GOLD's mission is to connect current students and faculty with recent civil engineering and construction engineering alumni. For more information on CCEE GOLD, visit www.ccee.iastate.edu/gold.