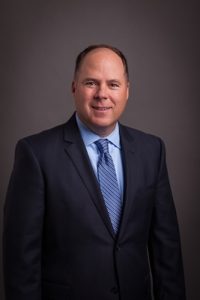 Greg Carlson, Director of Global Facility Construction/Design-Build for Burns & McDonnell, has been promoted to Vice President.  With nearly three decades of experience in the construction industry, Carlson provides the strategic vision for construction of global facilities, aviation, federal and commercial projects.
"Within the last year, Carlson has built a new commercial construction division at the firm and doubled the size of his team," said Greg Graves, Chairman and CEO of Burns & McDonnell. "One of Carlson's greatest assets is his versatility.  He has vast experience in leading innovative and complex construction projects for everything from hospitals and retail stores to plants and resorts – which each being best in class."
Carlson's most recent construction projects include $20 million in upgrades and renovation to the central utility plant on the University of Kansas Medical Center campus in Kansas City, Kansas; additions and renovations to 49 Hy-Vee grocery stores in the Midwest; and the $130 million expansion of the Burns & McDonnell World Headquarters in Kansas City, Missouri.
Carlson has a Bachelor of Science degree in Construction Engineering from Iowa State University, which he received in 1985, and a Master of Business Administration from Loyola University Chicago.  He is based at Burns & McDonnell's World Headquarters in Kansas City, Mo.
Burns & McDonnell is a company made up of more than 5,000 engineers, architects, construction professionals, scientists, consultants and entrepreneurs with offices across the country and throughout the world. We strive to create amazing success for our clients and amazing careers for our employee-owners. Burns & McDonnell is 100% employee-owned and is proud to be No. 14 on FORTUNE's 2014 list of 100 Best Companies to Work For.