Real World Design Challenge hosts Iowa State freshmen in Washington, D.C.
Getting young people involved in science, technology, engineering and mathematics (STEM) has been an educational goal for many schools, organizations and the government. The Real World Design Challenge (RWDC) also has this goal, which it emphasizes during state competitions and a national competition in Washington, D.C.
RWDC is an annual aviation competition for high school students with a challenge that changes every year. Derek Geiken and Nicole Kraft, both freshmen at Iowa State, won the state competition with their high school alma mater West High School in Davenport, Iowa, in September 2013. The team continued to the national competition in Washington, D.C. on November 14-16, 2014.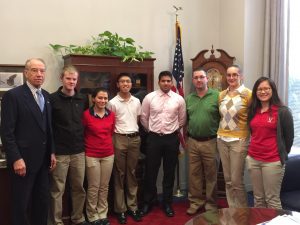 The 2013-2014 competition revolved around precision agriculture. Teams designed a drone that could detect a common field pest called the European Corn Bore within a cornfield. The mock home-office space was in Illinois, and teams had to create a plan to build the drone's 3-D modeling, mathematical calculations, and transportation, as well as a business plan. Students were judged on accuracy and if the drone would fly.
The competition gave Geiken and Kraft a chance to learn more about engineering, something they say has helped them as the figure out their plans at Iowa State. Geiken, a freshman in mechanical engineering, believes the program kept him involved in STEM. Kraft, an undecided freshman, is not sure what her future career will be, but RWDC encouraged her to explore the possibility of majoring in aerospace engineering.
She adds that getting people involved in engineering, especially aerospace, is important. "There needs to be people learning about air systems and safety to fill positions in the aerospace field. RWDC is a great way to inspire more young people to pursue the industry."
While in Washington, D.C., Kraft and Geiken's team gave a 15-minute presentation to six judges and listened to keynote speakers encouraging students to pursue STEM fields. Awards were also presented to six teams, and Iowa's team was awarded "most creative presentation." The team also explored the nation's capital and met with Senator Chuck Grassley on Capitol Hill.
This was the third straight year West High School had been selected as state champion and the third year the school attended the national competition. Kraft said, "Our team was very proud to be the first Iowa team to participate nationally and bring an award home."