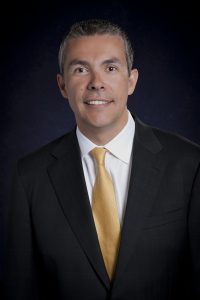 David Slump (BSEE'91) is executive vice president and president of automotive services for HARMAN. In this guest blog post, he talks about ways educational programs can provide students with the skills they need to navigate the world of ever-changing technology.  
Since 1965, we have continued to see Moore's Law actualized well beyond semi-conductors, impacting technological change at an ever-increasing rate. Areas such as robotics, artificial intelligence, biotechnology, 3D printing and other disruptive technologies create promising solutions to problems facing billions. We also frequently use new software solutions that were not even part of our vocabulary five years ago.
What does an ever-increasing rate of technological change mean with respect to how we educate engineers for the future? If the pace of change is such that the technologies that are prevalent in one's freshman year are disrupted, and new technologies are the key by one's senior year, there are several questions we have to address. How do we prepare the next generation of engineers, and what implications does it have on classroom and out-of-class educational experiences? How will disruptive technologies impact the brick-and-motor educational system we have in this country, and how can digital learning bring even more educational opportunities to millions without access to classic university environments?
These are important questions, and I'm certain that there are several viewpoints and answers. I offer up a few lessons from my own experience:
A strong foundation is required to build upon. In a fast-changing world, survival requires continuous learning. This requires we educate students on how to learn and apply the fundamentals in one area toward learning in another.
Hands-on experiences will differentiate the "Google it" generation. Facts, figures and formulates are all a search away. However, knowledge is practiced and experienced. And educational experiences that focus "hand-on" in labs, through internships and through multi-cultural experiences, will prepare one better than classroom teaching alone.
Teamwork and multi-disciplinary skills are keys to innovation. The pace of change requires a team of experts working together and bringing unique and opposing views toward solving common problems. Therefore, our educational system must create more inter-disciplinary opportunities and environments.
Digital and social media extend educational learning opportunities outside the four walls. This helps the graduate continue to learn; it helps potential students explore potential passions; and it challenges the faculty to remain relevant and impactful as it extends the competitive landscape to which their way of delivering education is compared.
During my education at ISU, we were taught the fundamentals to ensure a solid foundation through hands-on learning experiences. I had the privilege of working at the Electric Power Research Center on campus, as well as at the co-op with Omaha Public Power District in Omaha. Not only did these experiences help me fund out-of-state tuition, they helped me determine where my passions could be applied and what interested me so that I could continue to learn well beyond graduation.
Today, I find myself still a student, learning new things both in a classical sense through on-line material, but also through engaging with the many talented and profound members of our team. I focus my learning upon what will make the greatest impact for the business. These basics were instilled during my time at ISU, and I believe they will positively impact the next generation of engineers who take advantage of the hands-on educational opportunities that Iowa State delivers. So, seize these opportunities and leverage disruptive technologies to solve problems that can positively impact billions.
About the author
In 2013, David Slump took on the role of president, automotive services in addition to his global procurement leadership role with HARMAN. From 2011-2013, David served as executive vice president, corporate development leading the team responsible for strategy, M&A and global procurement across HARMAN. Prior to that, he served as president of the consumer division since joining the company in 2009.
David is a veteran of more than 20 years in a variety of senior positions in business development and turnaround, portfolio management and P&L responsibilities with companies including Landis & Gyr, GE, ABB and Commonwealth Edison. David holds a bachelor's degree in electrical engineering from Iowa State University and a master's degree in business administration from the University of Chicago.