Twelve seniors to be honored at graduation ceremony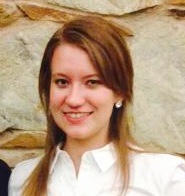 Tori Sorensen, electrical engineering, hails from Corning, Iowa, and will be serving as the College of Engineering student marshal during the fall 2014 commencement ceremony. She will be accompanied by James McCalley, Harpole Professor of electrical and computer engineering, as she leads the engineering class into the ceremony held December 20.
Throughout Sorensen's time at Iowa State, she was involved in many student organizations, including the President's Leadership Class, E-week, Orchesis II Dance Company, DubH Hip Hop Club and the Iowa State University Cyclone Football "Varsity" Marching Band. She took on leadership roles as the public relations coordinator for the First Lego League Planning Team and served as the secretary for Freshmen Council. Sorensen said these opportunities were important to her Iowa State experience, "Getting involved in these activities and working hard in academics has made me a well-rounded person.
Additionally, Sorensen applied the knowledge she gained from her studies during three internships. Her first two internships were with Alliant Energy, where she worked on a variety of projects, including an in-depth study of a combined cycle power plant to assess electrical arc flash hazards and ensure employee safety. This past summer, Sorensen interned with Arizona Public Service, studying the behavior of electric generators under abnormal conditions and improving safety and plant operation. She has also worked as an assistant applications engineer at EnSoft Corporation.
Sorensen says her time at Iowa State has been invaluable. "I've been given the opportunity to learn from some amazing professors and work with some outstanding classmates. It has sparked a passion within me for engineering that will drive me forward in my career," Sorensen said. "My experiences have taught me to aim high, work hard, and persevere. I'm truly honored to be able to represent the College of Engineering and my fellow graduates as we take these next steps in our lives.
After graduation, Sorensen will join Burns and McDonnell in Kansas City. She also plans to eventually work towards a master's degree.
Outstanding seniors named for fall 2014 are:
Joseph Arentson, chemical engineering
James Dewey Boddie, Jr., software engineering
Nathan Dunlap, materials science engineering
Alex Grieve, computer engineering
Jason Herbers, agricultural engineering
Patrick Kelly, biological systems engineering
Adam Lawrence, mechanical engineering
Carlie Mander, civil engineering
Jacob Schaefer, construction engineering
Aaron Swailes, industrial engineering
Jared Weaver, aerospace engineering
Chemical engineering major Joseph Arentson, of Harlan, Iowa, has many activities to be proud of during his adventure at Iowa State. Some of his favorite include going to Nashville, Tennessee, with the Association of General Contractors to assist with flood relief, traveling to Tyler, Texas, to renovate a youth camp with Salt Company at Cornerstone Church, coaching youth basketball and working with middle school student ministry at Cornerstone Church. In addition to these activities, Arentson interned at Gleeson Constructors and Engineers, Buckman, National Lab for Agriculture and the Environment, the Grain Processing Corporation and the Renewable Energy Group. Arentson also served as peer mentor and academic tutor. Post-graduation, Joseph will be working for Bryan Research and Engineering in Bryan, Texas, where he will work as a consultant.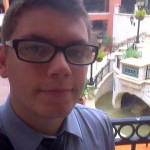 The first individual to go to college in his family, James Dewey Boddie, Jr., of Bettendorf, Iowa, will graduate with a software engineering degree. Boddie was awarded many scholarships while at Iowa State and also worked as a teaching assistant, tutor and proctor. Boddie interned at Maverick Software Consulting, HERE: a Nokia company and VSI Aerospace. Throughout his internships, he performed iPad testing for Thompson Reuters, worked within Nokia's autonomous, worked within Nokia's autonomous vehicle team and helped develop an educational flight simulator known as DAVinCI Flight. Boddie was also active in educational outreach; he served as mentor and facilitator for first LEGO League Team and is developing an educational USS Battleship Iowa game for the naval vessel's museum. After graduation, Boddie will be working as a software engineer at IBM.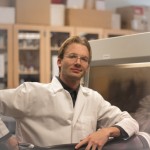 Materials engineering major Nathan Dunlap, of North Liberty, Iowa, has enjoyed pursuing an interest in renewable energy storage while specializing in ceramics and electronic properties of materials at Iowa State. He studied sodium ion mixed glass former glasses, where his research on the synthesis and structural analysis of the material was published in the Journal of Physical Chemistry. Dunlap also researches with NASA EPSCoR to study lithium-ion solid-state batteries and with the National Science Foundation in Osaka, Japan, to learn more about all-solid-state sodium ion batteries. In addition to government-funded research, he worked with Mercury Marine's research and development materials lab on a co-op. Dunlap was involved in the Glass and Optical Materials group and was awarded several scholarships. After graduation, he will work toward a Ph.D. in materials science and engineering to learn more about solid-state batteries.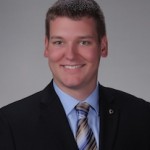 Alex Grieve, of Urbandale, Iowa, will earn a degree in computer engineering with an emphasis on computer and networking systems. During his time at Iowa State, Grieve built his professional portfolio through internships and campus involvement. He had an eight-month internship with IBM, where he helped optimize the DB2 query engine for the IBM i operating system. He also worked as an engineering field automation intern at DuPont Pioneer and an application developer intern at Wells Blue Bunny. As an undergraduate research assistant, Grieve architected and implemented a structural health monitoring system for concrete structures. He was an officer for Eta Kappa Nu honor society and a member of Tau Beta Pi honor society, and he spent multiple semesters enhancing students' learning as a teaching assistant. After graduation, Grieve will continue his studies at Iowa State, pursuing a master's degree in computer architecture and reconfigurable computing.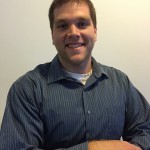 Agricultural engineering major Jason Herbers, of New Vienna, Iowa, held several leadership positions at Iowa State, including vice president and A-Team Leader of the Cyclone Power Pullers and peer mentor for the agricultural and biosystems engineering department. He was a member of the American Society of Agricultural and Biological Engineers as well as the International Fluid Power Society, where he obtained a Hydraulic Specialist Certification. Herbers was recognized with a number of academic scholarships, including the George Price Grieve Scholarship and will be graduating magna cum laude. He gained valuable experience interning at John Deere for three summers in the manufacturing engineering, design engineering and performance engineering departments. He will return to the company following graduation to work as a hydraulics design engineer.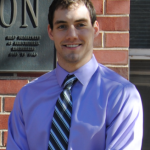 Patrick Kelly, of Fonda, Iowa, is earning a degree in biological systems engineering with a bioenvironmental emphasis. During his adventure at Iowa State, he added to his engineering education with career and research opportunities. Kelly interned at Iowa Learning Farms, Iowa State University's Agricultural Water Management Research Group and INVISTA. At Iowa Learning Farms and Iowa State University's Agricultural Water Management Research Group, he split his time between conducting research on denitrification woodchip bioreactors and traveling around the state of Iowa to educate the public about the importance of conservation of soil and water. Kelly was selected for the Dean's List multiple semesters and was recognized with many academic scholarships, including the Academic Recognition Award and the J. B. Davidson Scholarship. After graduating, he will work as an environmental health and safety engineer for INVISTA.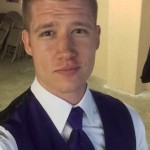 Adam Lawrence, of Carlisle, Iowa, is graduating with a degree in mechanical engineering and minor in psychology. While at Iowa State, he was a Freshman Honors research assistant in the microfluidics lab and held various undergraduate grader and tutor positions. He also interned at Honeywell FM&T in Kansas City, Missouri, with the Secure Electronics group and with Boeing Commercial Aerospace in Everett, Washington, as a flightline liaison engineer. Lawrence was active in the Iowa State University Cyclone Football "Varsity" Marching Band and Jazz II Ensemble and served as the Initiation Officer for Tau Beta Pi. He has been a member of the Iowa Air National Guard in Des Moines, Iowa, since March 2009, working as a Crew Chief on F-16's. In January 2012, he took a semester off to deploy with his unit to Kandahar, Afghanistan. Lawrence will continue his military career as a National Guard member and will be working as a mechanical engineer for Rockwell Collins in Cedar Rapids, Iowa.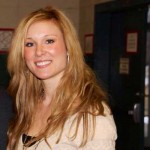 Carlie Mander, of Crescent, Iowa, is graduating summa cum laude with a major in civil engineering and minor in business. She is currently enrolled in the concurrent graduate program at Iowa State; she will receive her master's of science in geotechnical engineering. Mander has received many honors including the President Award for Competitive Excellence, National Society of Collegiate Scholars and the Terracon Fellowship. She worked at the USDA-NRCS National Soil Mechanics Laboratory, where she discovered her passion for geotechnical design. This interest led to working as a geotechnical design engineer at Kiewit Corporation for two summers. During the school year, she was a teaching assistant and supplemental instruction leader for CE 334 and Chem 177. Mander also served as president of the ISU Women's Volleyball Club and outreach chair for the Society of Women Engineers, and she is a member of Women in Science and Engineering and American Society of Civil Engineers student chapter. Following graduation, Mander will continue to pursue her master's degree.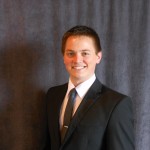 Jacob Schaefer, of Guernsey, Iowa, has enjoyed his adventure at Iowa State as a construction engineering major. He has been involved in several student organizations including the Associated Schools of Construction Competition Commercial Teams, Destination Iowa State, Undergraduate Student Advisory Council, ASHRAE, the Mechanical Contractors Association, the Association of General Contractors and Sigma Lambda Chi honor society. Schaefer also served as a peer mentor for the college, teaching assistant and community advisor. He was selected for several scholarships and spent a semester abroad at the University of Otago in Dunedin, New Zealand. Schaefer's professional experience includes four internships; he worked for Burns and McDonnell for two summers, followed by an internship with the Waldinger Corporation. After realizing his passion for mechanical design, he interned with Bluestone Engineering, where he will begin working in January 2015.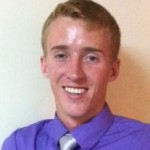 Aaron Swailes, of Riverside, Iowa, is graduating with a degree in industrial engineering and minor in entrepreneurial studies. While at Iowa State, he was selected to attend the Okoboji Entrepreneurship Institute in 2013 and also worked at three internships. He was a manufacturing engineer at Schneider Electric Square D Co., where he designed and installed a rework process to save more than $75,000 annually. Swailes also worked in Southeast Asia in the Global Business and IPACT program to spearhead a new branch market analysis for a small company, and he interned for Procter & Gamble and implemented a new quality control tool for three manufacturing lines. He participated in Freshman Leaders in Engineering, Engineers Without Borders and Alpha Pi Mu honor society. He also enjoys coaching youth basketball and spending time at the Matthew House in Ames. After graduation, Swailes will be working for Schreiber Foods in West Bend, Wisconsin, as a team advisor.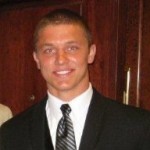 Aerospace engineering major Jared Weaver, of Moville, Iowa, is graduating summa cum laude while being named a Senior Letter Winner on the Iowa State Football Team. Weaver has been named to the Academic All Big-12 Football Team and chosen as the Scholar Athlete All-Cyclone Team Captain, balancing the rigors of both his coursework and a Division I sport as a walk-on student athlete. During his time in Ames, he has been a role model through tutoring engineering fundamentals and volunteering on campus for the Special Olympics and Relay for Life, as well as in team visits to a local hospital and elementary school. Two internships with the Boeing Company in aircraft structural design and analysis have awarded Weaver valuable industry experience. He will continue his career with Boeing following graduation and plans to pursue a master's of engineering degree in the next year.