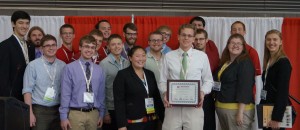 Material Advantage selected for honor at the Materials Science and Technology Conference 
Iowa State's Material Advantage group has been selected as one of the top 10 chapters in the world for eleven years straight. When asked how the group has kept this record, club advisor and materials science and engineering professor Scott Chumbley said, "We have great and involved students. The success of the club is due entirely to them."
To be awarded a Chapter of Excellence, the group coordinated several activities for its members. These educational programs have included hosting guest speakers from industry, research, and leadership positions and conducting industry tours. The group's efforts also include outreach programs through science demonstrations at club fairs and lecture halls, as well as during K-12 events.
Social activities continue to be a big part of the group's success. Material Advantage sponsors intramural teams on campus and encourages fellowship with all-you-can-eat pizza and pop. Finally, the group has many chapter chairs to foster leadership and encourage development of different aspects of the club, including outreach chair, programming chair and historian.
Jacob Weber, club president, believes the different activities the club has done are beneficial for students. "The goal of Material Advantage is to provide a way for materials engineering students and others interested in the field to grow professionally. You don't need to be a materials engineering major to join. It's an excellent way to get acquainted with key professionals."
The group attended the Materials Science and Technology Conference in Pittsburgh, Pennsylvania, in October, where they were named a Chapter of Excellence. While at the conference, Iowa State students interacted with professionals from the American Institute of Steel Technology, the Metallurgical Society, ASM International, and the American Ceramic Society during poster presentations, keynote addresses, workshops, and networking opportunities.
Although the group is somewhat disappointed it did not receive the Most Outstanding Chapter award as it has in the past, team members believe this is a sign that the clubs are getting better. "We were still recognized as a Chapter of Excellence and are proud of our accomplishments. That being said, we will continue to look for ways to make our chapter even better," said Weber.