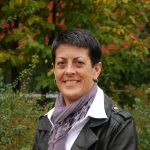 NSF Engineering Research Center for Biorenewable Chemicals (CBiRC) faculty member awarded Regents Award for Faculty Excellence
Tonia McCarley was nominated by her peers for the Regents Award for Staff Excellence, which she was awarded on September 22, 2014 at Iowa State's University Awards Ceremony.
McCarley was honored to be nominated for the award, ""It's such a tremendous honor to be recognized in this way for the work I do for CBiRC, the College, and ISU.  I'm fortunate to work with a lot of smart, hard-working, kind and understanding colleagues who truly support and nurture one another.  It makes my job much easier.  Honestly, it's a group effort, and I'm just lucky to be part of such a wonderful team!"
The award asks deans, directors, department chairs, faculty or staff to nominate fellow staff members for being an outstanding university citizen, specifically in teaching, research/creative activity, extension/professional practices or service.
McCarley has served as administrative director for CBiRC since 2008. She graduated from Iowa State in 1992 and 1989 with undergraduate degrees in fisheries and wildlife and economics.