Nineteen students from Iowa State University and the University of Kentucky learn about Brazilian technology and culture 
"Through my classes and involvement in the agriculture industry, I realized how large of a role Brazil plays in the global agriculture economy. I wanted the chance to learn about it firsthand," said Courtney Harder, senior in agricultural business.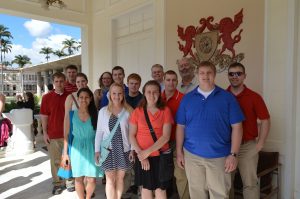 Among the many goals Iowa State's agricultural and biosystems engineering (ABE) department has for its students, one is to provide opportunities to interact with other cultures. Brian Steward, professor of agricultural and biosystems engineering, said, "It's important for students to have this experience because a lot of their employers are working across national boundaries and are doing business in different places."
While in Brazil, the group started at the Federal University of Viçosa, a partner university with a sister department to Iowa State's ABE department. Students from all three universities interacted with each other throughout the trip. Harder said, "I established connections between the university staff and students, as well as with the farmers and employers we met throughout the trip."
Another culture's agriculture technologies
After traveling to Viçosa, students traveled across Brazil to learn more about agricultural technologies, including tours of coffee, sugarcane, vegetable and dairy farms.
Brauna Farms is a specialty coffee farm that spans 740 acres and grows its crop for quality, not quantity. Students learned about the coffee production process, including growing, harvesting, drying, sorting, grinding, roasting and grading coffee beans. Jacob Christensen, junior in agricultural engineering, enjoyed learning about a different culture of farming during the tour, "They only had three tractors and the only other technology they used was for mechanical sorting and drying. Everything else is done by hand because the coffee is grown in the mountains, where there is a deep slope. It was interesting to see, coming from an Iowa farm, where everything is done with a tractor."
Another tour Christensen enjoyed was the Case International Harvester plant. The group saw the entire process of making sugarcane harvesters, including assembly and test lines. The students also learned about sugarcane production, which is different than corn production in the United States. Instead of individual farmers planting a crop, sugar cane milling companies plant sugarcane and own the equipment.
Learning about the Brazilian culture
The second goal of the trip was to learn about Brazil's culture. While spending time in Viçosa, Iowa State students enjoyed meeting students from the Federal University of Viçosa.
Andrew McCarthy, senior in agricultural business, found the Brazilian culture to be warm and inviting. "Here, we tend to shy away from strangers, but in Brazil the people we met were very friendly. We got to meet college students during our first week, and they took us out on the town and introduced us to all of their friends."
The group also traveled to Rio de Janeiro to sightsee. They swam in the ocean at Copacabana and visited the Christ the Redeemer statue.
After learning about the Brazilian culture, many students would encourage other students to travel abroad. Elise Ronnebaum, senior in agricultural engineering, said, "Studying abroad is a wonderful experience. We need to embrace other cultures so we can fully work better together with the rest of the world in achieving peace and getting along."
Students will be taking part in a fall class to further research their special interests from the trip.
For those students who want to travel to Brazil, a 6 to 8 week summer exchange program is being planned. A semester-long student exchange program also exists, where students can spend time studying and getting to know the culture of Brazil. For more information, contact Brian Steward at bsteward@iastate.edu.