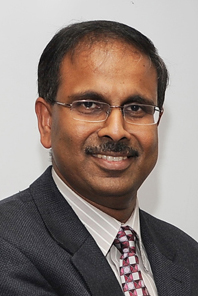 Sri Sritharan, Wilson Engineering Professor of civil, construction and environmental engineering, leads a National Science Foundation (NSF) project with international collaboration in earthquake engineering.
The concept for the project began in early 2000, when former graduate student Sriram Aaleti pursued research in rocking structural wall systems. Through the next few years, Sritharan and Aaleti developed a Precast Wall with End Columns (known as PreWEC). This innovative new post-tensioned precast wall system experiences rocking motions at the wall and column bases and is more economical than previously developed.
Since then, a team of graduate students, undergraduate students, and international collaborators worked with Sritharan and his research partners that include University of Minnesota Professor Catherine French and Villanova University Professor Eric Musselman. The project also has attracted additional funding to Iowa State University from BS Italia, Precast/Prestressed Concrete Institute (PCI), and in-kind contributions from more than a dozen companies. In this project, structural engineering master's student Dimitrios Kalliontzis, holder of a 2014 PCI fellowship, researches damping and energy dissipation mechanisms associated with structural rocking. Structural engineering doctoral student Maryam Nazari has performed shake table testing of single rocking walls and PreWEC systems — she presented her findings at the 10th National Conference on Earthquake Engineering in Anchorage, Alaska, in August 2014. The project also provided opportunities for three freshman hourly students to conduct research, including Elizabeth Lynch who continued her work with Dr. French on the interaction between PreWEC and floor diaphragms as part of an NSF Research Experiences for Undergraduates (REU) program. Jonathan Watkins, a Fulbright scholar and doctoral student at The University of Auckland (New Zealand), also has researched in Iowa State facilities; his work focused on establishing suitable connections between rocking walls and floor diaphragms so that floor damage can be eliminated in earthquake-resilient buildings.
Further testing has been conducted at NEES facilities at University Minnesota and Villanova University. Suzanne Dow Nakaki, a California-based structural engineer on the American Concrete Institute's Building Concrete Codes Committee on seismic provisions, works with Sritharan and his team to transfer the research to design options.
The NEES rocking wall project targets earthquake-resilient structures for the nation, including the Midwest where infrequent earthquakes exceeding magnitude 8 are possible. While the team works to find a structural solution for earthquake hazards, results of this study can be used for designing structures to withstand other hazards such as tornadoes, hurricanes, and blasts.
"We work to find the best researchers, regardless of where they reside, to reinforce our structures in the face of increased strength and frequency of natural disasters," Sritharan said.