­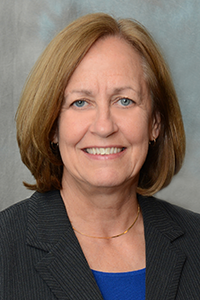 Sandra (Albertson) Larson (BSCE'88, BSBiology'75) has played an integral role in building partnerships between Iowa State University (ISU) and the Iowa Department of Transportation (Iowa DOT).
Born in Kirksville, Mo., Larson has spent most of her life in Iowa. She grew up in Ames, and then enrolled at ISU in 1971 – in biology and general science education. "At that point, I hadn't even considered engineering," she said. With her teaching degree she taught ninth grade physical science in Cedar Rapids, Iowa, and Riyadh, Saudi Arabia. She and her husband, Gene, had always wanted to live and work overseas.
After three years in Saudi Arabia, they returned home to Iowa. Larson thought about changing careers then, and she considered engineering because she had always loved math and science. "I saw a display case in Marston Hall that had all the kinds of engineering degrees posted. I had thought about architecture, but noticed civil engineering included structural design. I chose civil engineering because of that display case; plus, my brother was a civil engineer who provided more information about the program," she said. She graduated with her civil engineering degree in 1988.
Soon after graduating, Larson accepted a bridge design engineer position at the Iowa DOT in Ames. She has held several positions and is now the Systems Operations Bureau director. Throughout her career, she has had the opportunity to help build innovative partnerships within the Iowa DOT and with other agencies and institutions, including ISU.
When the Iowa Highway Research Board was created in 1950, the partnerships between the Iowa DOT and Iowa's universities were formalized. Since then the partnerships have grown between the Iowa DOT and ISU to ones of national significance and impact. Many state DOTs and national organizations collaborate with the Iowa DOT and ISU to improve the nation's transportation system. This productive partnership has resulted in many improvements to the bridges and pavements across Iowa and beyond. The Iowa State University Institute for Transportation (InTrans), comprising many civil, construction and environmental engineering (CCEE) faculty researchers, was and is an integral partner in this effort.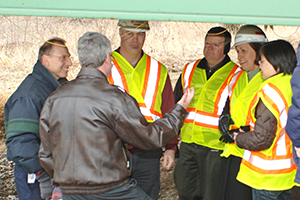 A key partner is her former professor, Terry Wipf, chair of ISU's CCEE department. She took his introductory structural analysis course in 1987. Many years later she reconnected with Wipf when she was the state bridge engineer for the Iowa DOT. As a result of their collaboration, Wipf became the director of the Bridge Engineering Center at InTrans. InTrans has formally partnered with the Iowa DOT since 1997. (At that time, InTrans was known as the Center for Transportation Research and Education. It expanded to become the Institute for Transportation in 2009.)
As the Iowa DOT Systems Operations Bureau director, Larson works with the Offices of Maintenance, Traffic and Safety, and Traffic Operations. These offices are focused on providing safe and efficient flow of people and goods on the state's transportation system. Improving mobility year-round across the system is a major emphasis area for the Iowa DOT and the Systems Operations Bureau. ISU has continued to partner with the Iowa DOT to meet the expectations for an improved transportation system; this was done through establishment of a new InTrans center focused on traffic operations, under the direction of Neal Hawkins.
Larson's influence also has gone national. She has served the American Association of State Highway and Transportation Officials (AASHTO) in several leadership capacities: chair of the Research Advisory Committee, vice chair of the Standing Committee on Research, and vice chair of the Highway Subcommittee on Bridges and Structures. "I am appreciative of the national perspective the Iowa DOT demonstrates. In these national roles, I always look at what I can bring back for Iowa," she said.
The real strength in working with ISU researchers is that they understand the business and perspective of the Iowa DOT, Larson said. "It's all about impact. This partnership shows that applied research can be implemented to make a difference for the public as they travel throughout our transportation system."
In April 2014, advisory councils of both the ISU and University of Iowa civil engineering programs met to share ISU-University of Iowa-Iowa DOT best practices in research and education. Larson is a member of the ISU Civil Engineering External Advisory Council.
Partnerships have reinforced Larson's decision to pursue a civil engineering career. "The field of civil, construction and environmental engineering is my home," she said. "I knew civil engineering was the right step for me; I just didn't know how right it was so long ago at that display case in Marston Hall."