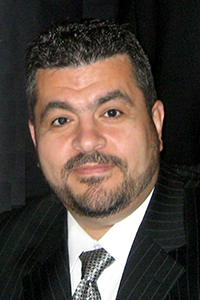 Omar Smadi, a new associate professor of civil, construction and environmental engineering (CCEE) at Iowa State University, builds upon a lifelong passion for transportation research.
Smadi's expertise is transportation infrastructure asset management and safety. Everything from pavements to bridges to road signs, his research uses data-based decision making to monitor components of America's highway system. In addition to management solutions, Smadi has trained countless state, city and county planners, and engineers for the past 15 years. "Research is a role of delivering good service, whether it's through project partnerships or teaching practitioners," he said.
Smadi became interested in highway infrastructure while growing up in Jordan. "I was fascinated with how all the bridges and highway interchanges were built and designed," he said. He applied his fascination to highway design courses and surveying labs while earning his bachelor's degree in civil engineering at Yarmouk University, Jordan.
He moved from Jordan to a graduate school opportunity at the University of Oklahoma, where his brother, Ayman, was a master's student in civil engineering. In 1987, Smadi met Professor Tom Maze, a University of Oklahoma transportation faculty member who was poised to start his Iowa State tenure as director of Iowa's Local Technical Assistance Program (LTAP). "Tom Maze inspired me to pursue transportation research on a national scale," Smadi said. "I think he recognized my diligence in Oklahoma, so he invited me to join him at Iowa State as a graduate student."
Through Maze's leadership, LTAP progressed to the Institute for Transportation (InTrans), one of the most prolific transportation research institutes in the nation.
Smadi has been a significant contributor to InTrans' development. He earned his master's in civil engineering in 1993 and his doctorate in 2000. Within the last 20 years, Smadi has amassed a research portfolio of pavement management systems, nondestructive evaluation, safety data integration, and asset management. He has helped build strategic national alliances in Transportation Research Board's Strategic Highway Research Program (SHRP 2) and the National Cooperative Highway Research Program (NCHRP), part of The National Academies. He also works with the Federal Highway Administration (FHWA) and American Association of State Highway and Transportation Officials (AASHTO) to set future research directions in the area of asset management. Smadi is part of an expert task group that helps FHWA promote and advance the use of asset management. Since 2010, Smadi has been the director of the Roadway Infrastructure Management and Operation Systems Program at Iowa State.
As an associate professor in the CCEE department, he also is excited about student mentoring. "I look forward to integrating teaching and research to develop a thriving academic-research program," Smadi said.