Mechanical engineering professor emeritus, Leo Peters (82) passed away July 20, 2014.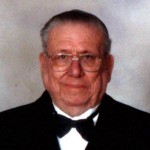 Dr. Leo Charles Peters was a presence in the mechanical engineering department for thirty-five years who preferred spending time mentoring students to doing research.
Peters served as an academic adviser in addition to being a professor and researcher, and he enjoyed helping foreign and minority students achieve their goals.
Graduate school brought Peters to Ames in 1961. He received his master's degree in mechanical engineering and began teaching. After finishing his doctorate, he became a full professor in 1978.
Peters also worked as an engineering consultant in his private consulting practice, handling cases all over the world. He served as a consultant and expert witness in patent infringement and products liability litigation.
Peters married Suzanne Gordon in 1957. They raised nine children together.