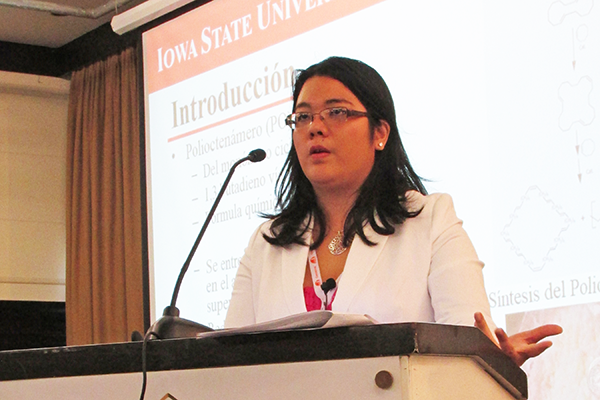 Ka Lai Ng Puga, an Iowa State University geotechnical engineering doctoral student, recently presented – in Spanish – at the 9th International Conference of Asphalt.
Ng developed a presentation on the modification of asphalt-rubber binders and mixes with polyoctenamer, based on geotechnical engineering research under the direction of Professor Chris Williams. "There is an international push to develop asphalt pavements in Central America and South America, using both conventional and modified asphalt," Ng said. The Panama native presented to a predominately Spanish-speaking audience at the 9th International Conference of Asphalt, held in Medellin, Colombia, Aug. 5-8, 2014.
Ng's presentation in Colombia also fit the tropical climate it surrounded. Her research tested polyoctenamer, a synthetic binder additive for asphalt pavement, and ground rubber tire to increase the service temperature threshold of asphalt pavement. The binder additive also proved to reduce asphalt pavement viscosity, allowing less energy to heat and produce the pavement mixture than regular asphalt-rubber binders. "We use green technology by utilizing scrap tires – waste that would normally pile up in stockpiles, landfills and dumps," Ng said.
Ng grew up with a passion for wanting to build tall buildings. "In Panama, I saw high-rises everywhere – I wanted to build that," she said. Her first interest was architecture. As she became more interested in the building and design process, Ng learned that civil engineering was her best fit. She went on to earn a civil engineering degree at the Technological University of Panama.
In 2010 Ng used her Fulbright scholarship to pursue civil engineering graduate school at Iowa State – a place she preferred for "personalized attention." She said she wanted to pursue an area of civil engineering she was not yet familiar with – geotechnical engineering materials.