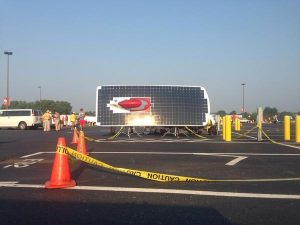 Rain or shine, Team PrISUm raced more than 230 miles today while holding onto third place in the American Solar Challenge.
Iowa State's solar car Phaeton had barely set out from the race's first stage stop in Norman, Oklahoma, when the skies darkened and rain began to fall.
"We tried to beat the weather a little bit by going faster in the morning, but we had to slow down near the beginning of the afternoon," said Rachel Hoke, the team's treasurer and a junior in electrical engineering.
At at one point, they even had to pull over to briefly recharge the car's batteries – costing them valuable time in the race. Oregon State University and Polytechnique Montreal: Esteban seized this opportunity and passed them on the road.
But the quick pit stop was enough to sustain the team's journey to the next checkpoint in Wichita, Kansas, where they arrived in fifth.
Even though they fell a little behind on the road, Team PrISUm isn't worried yet. They still hold third place in time, and in the end, that's what the race officials look at to decide the winners of the race.
Now the team is a little more than 200 miles from the next stage stop in Overland Park, Kansas.
And everything else is running smoothly.
"It was mostly just the weather that was causing us problems. We didn't have any problems with the car," Hoke said. "We're still in third place, we're still doing well."