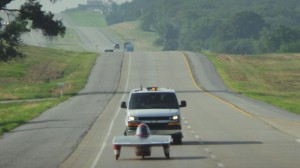 Today went exactly as Team PrISUm had planned for the second day of the American Solar Challenge.
Iowa State's solar car Phaeton raced more than 180 miles from its overnight stay in Decatur, Texas, and passed Principia College to take third upon arriving at the first stage stop in Norman, Oklahoma. Now Phaeton is closing the gap between the race's lead cars.
"We're roughly an hour behind the University of Michigan and about half an hour behind the University of Minnesota," said Dakota Morgan, who is a senior Team PrISUm member and a senior in mechanical engineering.
The American Solar Challenge is essentially a time trial – winners are determined by the total time driven from Austin, Texas, to Minneapolis, Minnesota. With that in mind, Morgan said his team has a strategy to take first place.
"We have a strategy where we input our current wattage for the solar array, current speed and distance to the end of each stage stop that allows us to estimate how fast we can drive and how many miles we can cover each day," Morgan said.
Time is of the essence but the American Solar Challenge is also an endurance race.
In addition to vital solar rays, the afternoon sun brings high temperatures that can cause battery packs to overheat if teams aren't careful. Thankfully, this isn't a problem for Team PrISUm who prepared for this situation beforehand.
"Our battery packs are built to withstand the heat. This means we can keep driving at full speed while other teams have to slow down so they don't overheat," Morgan said.
The team arrived at the stage stop ahead of schedule, and spent most of the day preparing for the next long haul. They recharged Phaeton for two hours before calling it a night.
"We ended the day exactly as we planned," Morgan said.