Iowa State University's construction engineering program has partnered engineering students, a multimedia expert, and an alumnus to pilot hybrid learning course development.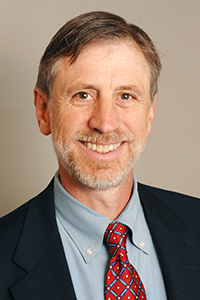 From 2012 to 2014, W. A. Klinger Teaching Professor Charles Jahren and his team of engineering students and multimedia experts developed a hybrid learning model that efficiently combines online and in-classroom course content. The College of Engineering supported this endeavor through a dean's educational initiative that funded engineering departments their projects to support continuous improvement in undergraduate education.
A key driver of the hybrid learning model is a multimedia expert. Natalya Koehler served this role from 2012-2013, soon after she received her doctorate in education technology and human-computer interaction at Iowa State. Koehler developed a research-based framework for one hybrid course – CON E 322 (Construction Equipment and Heavy Construction Methods). She pursued a three-prong approach to this framework: 1) educational design research, 2) teaching hybrid courses in civil and construction engineering, and 3) web-based interactive multimedia design and evaluation. Koehler presented this concept at the 120th American Society for Engineering Education (ASEE) Conference & Exposition, held in Atlanta, Ga., June 23-26, 2013. Koehler moved to Ohio in September 2013, where she became an instructional developer for online courses at Franklin University.
In September 2013, Aliye Karabulut Ilgu took over the postdoctoral research position. She received her doctorate in curriculum and instructional technology at Iowa State in May 2013. Karabulut Ilgu coordinated development of online course materials using software like Camtasia Studio, Lectora Inspire, and Snagit. She also revised in-class activities so students could utilize face-to-face time more efficiently.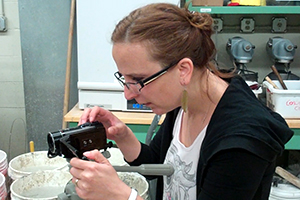 John Mallen (MSCE'13), lecturer and former graduate student who helped develop the model, contributed his expertise to course content. He helped produce a hybrid model for CON E 322; however, he recognized the importance of hybrid learning in other courses. "We were able to shorten the lecture videos and reduce the seat time for students," Mallen said. "This allows the instructor to introduce more open-ended problem discussions when students meet face-to-face." In the last year, he has applied construction engineering concepts and problems from his role as assistant project manager at Woodruff Construction, LLC.
"John and I had great synergy in creating class activities and materials together," Karabulut Ilgu said.
Spring 2014 construction engineering graduate Zhenhua Jia volunteered for the project from Spring 2013 until graduation this past May. He compiled video, audio, and PowerPoint files in Camtasia Studio software to produce the online portion of the hybrid classroom. He also created discussion questions within these modules. "I created short videos for students to watch. The videos got to the point right away," Jia said. "If we keep videos short and interesting, with animations, I think students will take the time to watch them."
Jahren celebrates engineering students being engaged in multimedia production. "Students can be involved in teaching and development processes," Jahren said. "Multimedia is something students can do and often enjoy doing, like editing audio, video and coming up with some of the visuals."
Hybrid learning models of CON E 322, CON E 421 (Construction Estimating), and CON E 441 (Construction Planning, Scheduling, and Control) inspired hybrid versions of a few civil engineering courses, starting in the Fall 2014 semester: CE 111 (Fundamentals of Surveying), CE 360 (Geotechnical Engineering), and CE 484/584 (Advanced Design of Concretes).