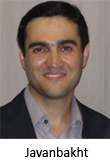 Mahdi Javanbakht, postdoctoral research associate in mechanical engineering, was awarded the 2014 Karas Award for Outstanding Dissertation. The Karas Award recognizes excellence in doctoral research at Iowa State. Two winners are selected each year, and are therefore nominated for the national competition for the Council of Graduate Schools/University Microfilms International Distinguished Dissertation Award.
Javanbakht's dissertation is titled "Phase-field approach to surface induced phase transformations and dislocations." Javanbakht explained, "Phase field approach (PFA) is an intermediate between atomistic and continuum thermodynamic approaches. It allows us to consider samples and process time much larger than in atomistic simulations and is much more informative than classical thermodynamics. It is also one of the most computationally efficient methods to capture the evolution of nanostructures."
In his dissertation, Javanbakht advanced PFA to martensitic phase transformations and dislocations as well as to their interaction, and included physics that had been missing in previous PFAs.
Javanbakht's advisor, mechanical engineering professor Valery Levitas, encouraged his interest in the area of phase-field approach. Javanbakht found that he enjoyed the subject and was quickly able to begin publishing his own findings in highly ranked journals. This included publishing two papers in Physical Review Letters (PRL), the world's foremost physical journal.
Applying for the Karas Award required a 10-page abstract about the dissertation, as well as numerous letters of support from faculty and PhD committee members. In the end, Javanbakht's efforts were well worth it.
"I could not be any happier! I was so excited and happy because all the effort of mine and my advisor in the last four years ended up with an honorable award," Javanbakht said.
Javanbakht is hoping to find an academic position, and plans to continue pursuing his current research field and establish his next research field in solid mechanics.