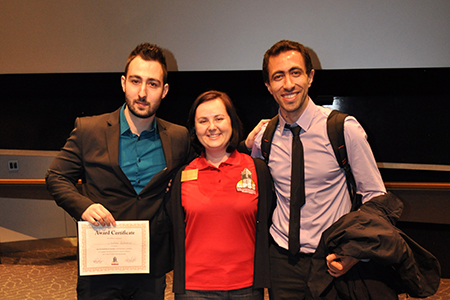 Dimitrios Kalliontzis, a master's student in structural engineering, was a runner-up at the first Iowa State University Graduate and Professional Student Senate (GPSS) Research Conference, held at the College of Design on April 4. Kalliontzis came in second place for his oral presentation entitled, "Dynamic Decay of Rocking Precast Concrete Members."  He was one of 48 graduate students whom participated.
Kalliontzis won $200 as second-place finisher. He says that the judges were primarily looking at participants' presentation skills, and how they responded to questions. "Being able to engage questions from an external audience can be hard, and this was a great practice experience," said Kalliontzis.
Kalliontzis moved to Iowa State after receiving his undergraduate degree at Aristotle University of Thessaloniki in Greece. His oral presentation covers his thesis research, which he has been working on since January 2013. The research, under the direction of Wilson Engineering Professor Sri Sritharan, looks at understanding the damping and energy dissipation mechanisms associated with rocking.
Physics and astronomy graduate student Joshua Cardenzana won the oral competition, receiving the $300 top prize. Entomology graduate student Cody Kuntz placed third and earned $100.
The conference held competitions in three categories: a poster session, oral presentation, and a three-minute thesis competition. Access this link to learn about other winners. Professors from various departments at Iowa State judged these events. "It is important to understand how to talk about your research with other disciplines," said Kalliontzis. He added: "Doing things like this gives me a direction on where I want to go with it in the future. It was a lot of fun being able to present what I've worked so hard on to others."
CCEE Communications Intern Alex Hagar contributed to this story.