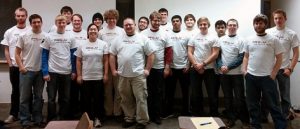 As campus sidewalks cleared for the day, Dylan Neal settled behind a corner window and a bank of computer screens. He was devoting a recent midweek evening to a few more hours of solar car engineering.
Neal, a freshman from St. Louis who's studying mechanical engineering, was designing parts of Phaëton, Team PrISUm's 12th solar race car. (The car is named after the Greek sun god's son who, according to mythology, begged to drive the chariot of the sun.) Neal's carbon fiber and aluminum parts will attach the top shell of the car, including its solar array, to the rolling frame.
Those won't be visible or glamorous parts of the $400,000 project, but they'd better do their job. The three-wheeled car, after all, has to hold together for eight days and about 1,700 miles of cross-country racing.
This year's racing season for student-designed and student-built solar cars begins July 14-19 with the Formula Sun Grand Prix qualifying race at the Circuit of the Americas Formula 1 track in Austin, Texas. Successful teams at the qualifying race will compete in the American Solar Challenge, July 21-28, from Austin to St. Paul, Minn. The race has designated Ames a July 26 checkpoint on the stage from Omaha, Neb., to La Crosse, Wis.
All solar car teams will race into Ames and make a stop at the Iowa State Center parking lots. The teams are expected throughout the afternoon and some may stop overnight. Plans are being made for special activities at the checkpoint.
Back at Team PrISUm's Sweeney Hall headquarters – a cluttered mix of computers, couches, textbooks and electronics – Neal figured he'd need about four hours with 3-D software to design the new parts. Once he's done, the latching parts will have to be manufactured, attached, tested and, ultimately, raced across the middle of the country.
Team PrISUm is one of the reasons Neal picked Iowa State, he said as he flipped and spun computer drawings of the parts.
"I've been working with the team ever since the first week of school," said Neal, who now directs the team's outreach events. "They pull you right in and you really just learn by experience. You can learn everything you need to do."
At the back of Sweeney Hall, in Team PrISUm's garage, another seven team members were busy making room for all of Phaëton's assorted pieces and Hyperion, the team's previous car and a second-place finisher in the 2012 American Solar Challenge. Hyperion was out of storage and back in the garage for several presentations and outreach events.
Joseph Regenscheid – a junior from Prior Lake, Minn., who's studying materials engineering – paused from the evening tasks to show off Phaëton's top and bottom shells made of carbon fiber and its frame made of aluminum tubing.
The team's biggest priority for the spring semester is completing the sleek and aerodynamic frame and body panels. So the team has made good progress, Regenscheid said.
But there's plenty more to do: Cutting and attaching reinforcing bulkheads for the carbon fiber shells, adding a layer of carbon to cover the joints where carbon pieces have been glued together, heat-treating the chassis to strengthen the aluminum.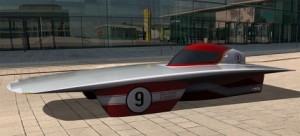 And then, of course, there's completion of suspension parts, tire testing, drivetrain assembly, attaching solar cells, canopy construction, building the battery pack, wiring everything together and, if time allows, hundreds of miles of on-road testing.
When Phaëton is all together, the team hopes it weighs about 400 pounds, an 80-pound reduction from Hyperion. The team expects to accomplish that, in part, by using carbon fiber for all body panels rather than fiberglass. Carbon fiber is stronger than fiberglass so the team can save weight by using less material.
"That's a huge deal," Regenscheid said, explaining that lower weight means higher efficiency and speed.
Logan Scott – a veteran of Team PrISUm's electrical team, project director for Phaëton and a senior in computer engineering from Mount Vernon – said there's also been progress with the car's electrical system. Team members will soon take boxes of batteries, electrical boards and some 400 solar cells – enough to cover 6 square meters – and turn them into the car's power plant.
The team's electrical system has been a strength the past few years. And Scott expects that will continue with Phaëton. The team doesn't plan a major electrical overhaul, just a few tweaks and upgrades.
But it will take a lot more after-hours commitments for Team PrISUm to build another successful solar race car.
"We're not where we want to be yet," Scott said. "We're all students and this time of year especially, it's hard to find time to get these kind of projects done. But we're still well within the range of finishing on time."
And yes, he said, it will be fun to race through Ames this summer. Just don't expect Team PrISUm to stick around very long. Scott said the team's goal is to go well beyond Ames before it stops to rest and recharge for the next day of racing.
The original story appeared here.