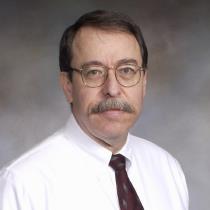 Dick Netley (BSCE'73, MSCE'77) has had the privilege to design structures near and far and even part of Iowa State University's history.
His inspiration to design buildings sparked at age 11. His father built the family cabin on Whitefish Lake, Minn., about 100 miles north of Minneapolis. "He actually cut down the trees himself, hauled them to the saw mill in town, and had them cut into lumber," Netley said. Father intrigued him further with stories of how big ships hauled iron ore from the northern Great Lakes region to steel mills in Chicago and surrounding areas to make steel for cars and buildings. "I always thought using material from nature in such a way was really cool!"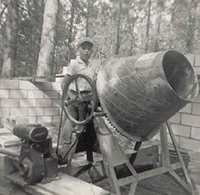 Fast forward to 1973. After changing his major from aerospace engineering to civil engineering at Iowa State, Netley and four other students were about to build something almost unheard of – a concrete canoe. During 1973 VEISHEA canoe races on Lake LaVerne, the team unveiled U.S.S. Ekberg, a 400-pound floating concrete hull named after the civil engineering department chairman at the time, Dr. Carl Ekberg.
This challenged the common belief that a concrete canoe, which was much heavier than the 78-pound aluminum canoes used at 1973 VEISHEA, would sink. When the canoe floated, The Des Moines Register reported that "a mighty cheer rose from a crowd of about 50 that gathered on the shore of the small lake," according to a May 2, 1973, front-page article. Because lightweight porous aggregate was used in the canoe, the hull absorbed 50 pounds of water, yet it still floated.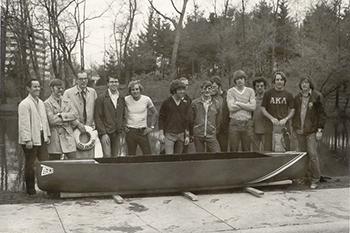 Dr. F. Wayne Klaiber, then-assistant professor and current Anson Marston Distinguished Professor Emeritus, advised the first concrete canoe student group. The project has since become an annual tradition and regional competition for the American Society of Civil Engineers Iowa State University Student Chapter.
Netley earned his civil engineering bachelor's degree in 1973. He returned to earn a master's degree in 1977. From 1973 until 1981 he worked at DGR Engineering and FEH Associates, Inc., in Sioux City, Iowa, as well as taught structural steel design to Iowa State architecture students. He has worked for his current employer, HDR, Inc. (Omaha, Neb.), since 1981.
In the mid-1980s, Netley accepted an offer to help design the Charles W. Durham and Marge Henningson Durham Center for Computation and Communication, known today as Durham Center. Charles Durham (BSCE'40, MSCE'45) was a partner in Henningson, Durham, and Richardson Inc., at the time, known today as HDR. He communicated the project to his staff, one of which was structural engineer supervisor Frank Sowokinos. Knowing that Netley was an Iowa State alumnus, Sowokinos asked Netley to serve as lead structural engineer for Durham Center. "I jumped at the opportunity," Netley said. "I loved the chance to design a building for my alma mater."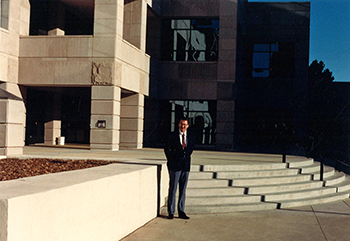 Netley's role in Durham Center construction included designing the building's wide-module "skip-joist" structural floor system. A relatively new method at the time, the system laid out concrete beams about six feet apart measured from the centers of the beams. The method required half the joists of a conventional pan joist system. Concrete used in the columns was 25 percent stronger (5,000 pounds per square inch tested) than conventional concrete (4,000 pounds per square inch tested) at the time. At stair cores and elevator cores, Netley designed concrete shear walls to resist lateral loads. An under-slab drainage system was designed to dewater a 30-foot combined basement and sub-basement within a 7-foot water table. An interesting fact: till soil in the area is exceptionally stiff as a result of glaciers weighing down the soil about 14,000 years ago. This allowed shallow spread footings to support the foundation.
Durham and his wife, Marge, donated $3 million to Iowa State University, the largest single donation to Iowa State up to that point, to help construct Durham Center. The building cost $10.7 million to build in 1989, or about $21 million in inflation-adjusted 2014 dollars. Durham Center allowed the university to double the computer capacity available for research and instructional support for students and faculty. Today it primarily houses the Department of Electrical and Computer Engineering and Iowa State's Information Technology Services.
Netley has designed high-profile projects around the U.S. and in other countries. In 2002 he helped upgrade the lower level at the U.S. Pentagon. He also has designed structures for the U.S. Department of Homeland Security, the Cleveland Clinic Abu Dhabi in the United Arab Emirates, and a half-mile long oil pipeline to rail transfer facility in Alberta, Canada.
Of these projects, Netley is most proud of Durham Center. He recalls as a student the many campus walks where Durham Center now stands. He regards these Iowa State memories as the building blocks to starting a successful structural engineering career. Netley said, "Doing the structural design for the Durham Center was an honor and privilege that closed the circle."