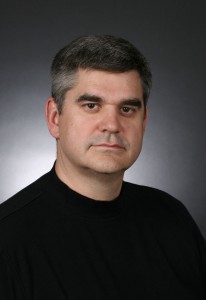 As an alumnus of five universities, including Harvard and MIT, 1983 Iowa State graduate Greg Brown has put his talents to use around the world. From Iowa to Massachusetts and Canada to New Zealand, his journey has taken him from engineering to the medical field. Now, Brown reflects on his time at Iowa State and his career in orthopedics.
Where are you from?
I was born in Des Moines. My family moved to Sioux Falls, S.D., when I was 1 ½ and that is where I grew up.
Where are you now?
Two answers: I live in St. Paul, Minn., and I am an orthopedic surgeon and Associate Chief of Surgery for Outcomes at Park Nicollet Health Services in St. Louis Park, Minn. I am also currently sabbatical in Auckland, New Zealand.
What is an interesting experience you've had?
I am doing orthopedic trauma surgery at Auckland City Hospital. We are renting a beach home on Bucklands Beach and enjoying our time exploring a new country.
What encouraged you to attend Iowa State?
I attended Iowa State University to study mechanical engineering. My father (John Alexander Brown) graduated from Iowa State University in 1960, and my cousin started at ISU in 1978. ISU is the only school to which I applied.
Why did you study mechanical engineering?
My father had a heating, ventilation and air conditioning (HVAC) service company in Sioux Falls, and HVAC is a subspecialty of mechanical engineering. However, what I found most interesting once I started mechanical engineering was solid mechanics, engineering analysis, modeling and design.
How did engineering provide a foundation for your current career?
The engineering analysis education has been invaluable for analytics in clinical medicine. Much of what I do for analytics is biostatistics. However, I still do engineering mechanics for my research in anterior cruciate ligament (ACL) knee injury risk assessment and fracture fixation cost-effectiveness.
What was most memorable about your time here?
I tutored for the math department after my freshman year. I very rapidly learned that you do not understand a topic until you can explain or teach the subject to someone else. I am still in awe of the breadth and depth of the mechanical engineering department faculty and curriculum. I went on to do engineering master's and doctorate degrees at MIT, and I cannot think of any subject for which ISU had not prepared me.
Have you experienced anything in your career that you can relate directly back to your education at Iowa State?
I took a number of biomedical engineering courses as senior electives and discovered my interest in biomechanics and orthopedic surgery. Also, I worked for Caterpillar in Peoria, Ill., for two summer internships and worked in Quality Control and Reliability. This was an excellent background for health care quality improvement using the Toyota Production System lean manufacturing principles at park Nicollet Health Services.
Were you involved in any student activities?
I was the President of Tau Beta Pi, the Engineering Honor Society. Broomball was a particular interest of mine. I had never played broomball until I came to ISU. You would get up at 2 or 3 a.m. to get ice time to play games. One season, I played in four leagues (men's and coed, both indoor and outdoor), and we won three championships out of the four leagues.
Do you remember any classes or professors as being particularly important to your education?
Charles Mischke taught engineering design and modeling. He had more to teach than I could ever absorb. I still reference his book for ME 251 for statistical transformation equations. Alex Henkin taught manufacturing and taught by way of Socratic questioning that was interesting, frustrating and ultimately educational. Bob Fellinger taught a graduate thermodynamics course and the learning was simply a pleasure. Bill Riley in engineering mechanics always gave the same recommendation before his tests: review your notes, have a beer and relax!
Can you explain a little of what you've done since earning your degree?
I received a master's degree in mechanical engineering and a Ph.D. in medical engineering from MIT in the area of biomechanics, and I received my M.D. from Harvard Medical School. I completed my orthopedic surgery training at the University of Minnesota and a Sports Medicine Fellowship at the University of Western Ontario in London, Ontario. I joined the University of Minnesota faculty in 1999—16 years after graduating from Iowa State. In 2006, I switched to Park Nicollet Health Services/Methodist Hospital, where I am currently employed.
What has been the best part of your career?
The best thing about my career has been the ability to use my engineering education for quality improvement and analytics in health care. Those skills allow me—and my surgical colleagues—to provide better clinical care to our patients.
Have you had to overcome any obstacles in your career?
The biggest obstacle was surgical residency. You are working harder than you have ever worked in your life. The biggest toll is on your family and personal life. I love what I do, and that helps make all the hard work, time and effort of surgical training worth completing. It is very gratifying when patients thank you for improving/restoring their quality of life.