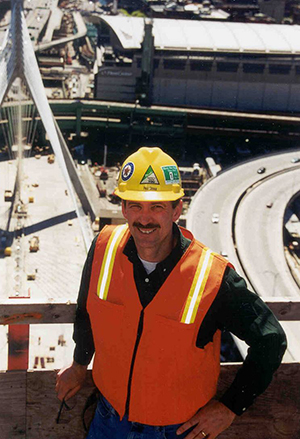 Raymond "Paul" Giroux (BSConE'79) leverages the past to improve the future. The lifelong builder would not have it any other way.
Giroux was born into the civil and construction engineering industry in 1956. Although his birthplace is Bismarck, N.D., Giroux's earliest memories were in the early 1960's visiting the construction of Flaming Gorge Dam near Dutch John, Utah. "Because my father was in heavy civil construction I moved a lot before junior high school," Giroux said. "My father would often take my brothers and me out to the job site on the weekends to see the work being built."
His civil engineering upbringing transitioned to a potential career when his father brought him to an upstate New York jobsite in summer 1974. Soon after graduating high school, he discovered his current employer, Kiewit Corporation. "I was thoroughly impressed with all the engineers, superintendents, and craftspeople on the project," Giroux said.  "I gained a better understanding and appreciation of the construction process. By the end of the summer, I decided wanted to be a builder."
In 1975 he entered the construction engineering program at Iowa State University. He joined the Theta Chi fraternity, where many engineering students also joined.
Four years later, he earned his bachelor's degree. He secured the ticket to become a builder and soon was hired on a Kiewit construction project: the Fort McHenry Tunnel in Baltimore, Md. In addition to that project, Giroux has been assigned to 11 major projects amongst seven U.S. states. He currently is a senior quality manager for Kiewit Infrastructure West, based in the San Francisco Bay area. This work is one of two Giroux's professional callings.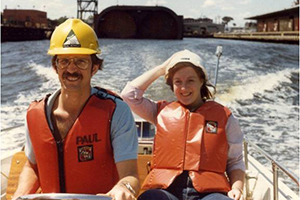 As Giroux nears his 35th anniversary with Kiewit Corporation, he says that he realizes how much he still needs to learn. "The managers I have worked with always demonstrated the importance of leveraging the lessons of the past." His other calling is promoting the engineering past.
Giroux takes this statement to heart. He has studied, intensely, the engineering lessons in some of America's most famous construction projects: Panama Canal, Brooklyn Bridge, Hoover Dam, and Golden Gate Bridge. His research, which he says sums over 500 hours per project, has culminated in many ways: more than 200 university lectures at more than 40 engineering schools, American Society of Civil Engineers (ASCE) chairman and featured speaker for Brooklyn Bridge's 125th Anniversary, closing speaker at the ASCE Hoover Dam 75th Anniversary Symposium, and ASCE chairman and principal lecturer at Golden Gate Bridge's 75th Anniversary. He will be a featured speaker for the ASCE's Panama Canal 100th anniversary history symposium in Panama, where he will present his paper on the construction of the original canal.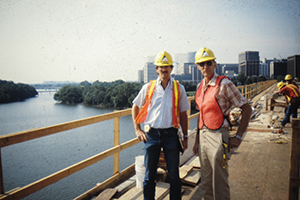 Giroux has published seven other works based on his research: "Building Better Bridges" article in the October 2007 edition of Engineering News-Record; "Sustainable Bridges – A Contractor's Perspective" article in the April 30, 2010, edition of Aspire magazine (publication on concrete bridges); "Building Hoover Dam (Men, Machines, and Methods)" article in the Hoover Dam: 75th Anniversary History Symposium Proceedings, October 2010; and "Relevance of Roebling" article in the January 2009 edition of ASCE's Journal of Performance of Constructed Facilities. He also appeared on a May 24, 2012, public panel at California's Commonwealth Club, "The Golden Gate Bridge at 75: What Makes an Icon."
In his presentations, Giroux exposes how personnel and politics interwove engineering applications to produce such iconic projects. He says new engineers can apply a lot of lessons from the old and historic. "Engineering is a human endeavor and can tell quite the compelling human story." Some of these "human endeavors" include effective communication and leadership in conjunction with expert technical skills. Giroux says "it's what a complete engineer does."
Giroux also pushes advanced Microsoft PowerPoint techniques, bringing construction operations of the distant past to life. He was featured in the "Pushing PowerPoint: A Masterly Lecture Brings Construction to Life" article in the September 2012 edition of American Society for Engineering Education's PRiSM magazine. His historian work also garnered the 2013 American Society of Civil Engineers Civil Engineering History and Heritage Award.
In short, Giroux is thoroughly passionate for America's building industry and past. He calls himself "engineer, builder and amateur historian – in that order."