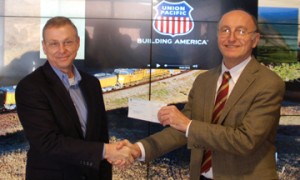 The Department of Electrical and Computer Engineering announced a $150,000 partnership with Union Pacific that includes the naming rights to the multimedia wall in Coover Hall's East entrance. The wall was renamed as the Union Pacific Multimedia Wall during a small ceremony on Feb. 12 that included representatives from both Union Pacific and ECpE.
"In this difficult funding climate, corporate partnerships have become more important to us than ever," said David C. Jiles, Anson Marston Distinguished Professor and ECpE's Palmer Endowed Department Chair. "The department is proud to partner with Union Pacific."
Rick Holmes, Assistant Vice-President of System Engineering at Union Pacific, presented the department with a check.
"When Dr. Jiles approached us to sponsor this wall, I couldn't say yes fast enough," said Holmes. "This is an excellent branding opportunity for Union Pacific."
The partnership will provide the department with resources that will aid student learning and student involvement with the project. In addition, Union Pacific and ECpE will produce collaborative content for the space.
"The UP Multimedia Wall represents electrical, computer, and software engineering in one facility," Jiles said. "We're giving students the opportunity to do creative work, create interesting applications, and dream up many potential uses. Partnering with Union Pacific helps us facilitate these goals."