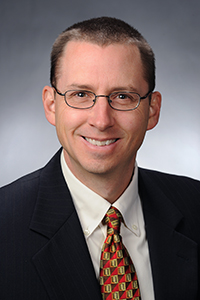 On Jan. 13 Iowa State University Institute for Transportation (InTrans) researchers received the 2013 Transportation Research Board (TRB) Geology and Properties of Earth Materials Section Best Paper Award.
Researchers include Richard L. Handy Associate Professor David White (MSCE'99, PhDCE'00), geotechnical engineering doctoral student Peter Becker, clinician Pavana Vennapusa (MSCE'04, PhDCE'08), Iowa Department of Transportation (Iowa DOT) operations research engineer Mark J. Dunn (BSCE'93, MSCE'05) and postdoctoral research associate Christianna White. These researchers, from the InTrans Center for Earthworks Engineering and Research (CEER) and in partnership with Iowa DOT, wrote the paper, "Assessing Soil Stiffness of Stabilized Pavement Foundations," which was published in the Aug. 16, 2013, edition of Transportation Research Record: Journal of the Transportation Research Board. The paper was evaluated and reviewed by the Soil and Rock Committee of the Transportation Research Board.
David White, project lead, started research in March 2012, and he began writing the paper in late July 2012. The paper reports the findings from the Iowa DOT-designed research with the hope of comparing soil stiffness-based measurements with traditional testing methods. The central research site was in Boone, Iowa, where tests were performed on a 4.8-mile section of roadway. David White says the results will be used to improve design and construction of pavement systems statewide.
When asked what it means to win this award, David White responded, "I believe that it reflects the significant interest that this particular project has at the national level, and it demonstrates that Iowa DOT research is being watched well beyond our state border."
He adds that in moving forward, Iowa State and the Iowa DOT will continue to use research from this particular project site to evaluate the long-term pavement performance.
CCEE communications intern Alex Hagar contributed to this story.