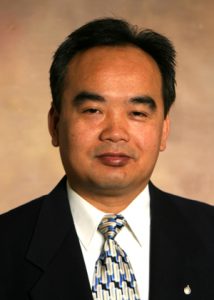 Hui Hu, professor of aerospace engineering, has been invited to give the plenary lecture at the International Symposium on Flow Visualization (ISFV). The symposium will be held in Okinawa, Japan on June 24-28, 2014.
Hu's talk will focus on his research in two main areas; his recent progress in developing a novel molecule-based flow diagnostic technique, referred to as Molecular Tagging Velocimetry and Thermometry, and wind turbine aeromechanics and wake interferences.
"It is a great honor to be invited to give one of the three plenary lectures. I am quite excited to have this opportunity to meet scholars and scientists from all over the world," said Hu. "And by giving a plenary lecture at an international symposium like ISFV I hope it will be helpful to advance the overall reputation of Iowa State University's research and education efforts in this field."
The International Symposium on Flow Visualization, which is held regularly every two years, provides the international community a unique forum for direct dialogue and personal interaction related to flow visualization techniques and their applications. It brings together the researchers and scientists from various points of the world for intensive discussions and idea exchanges on state-of-the-art visualization techniques and their applications for various fluid mechanics, aerodynamics and heat transfer studies. It fosters interdisciplinary interactions and brings together professors, graduate students, and undergraduate students with different nationality and culture backgrounds in a multi-level learning experience infused with the excitement of discovery.
To learn more about the symposium, click here.
For Dr. Hui Hu's complete abstract, click here. For a link to Dr. Hu's research group, click here.