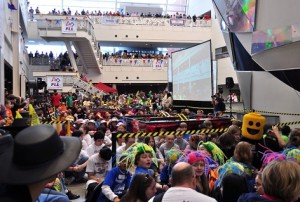 The team of middle schoolers didn't know how to make an app. Neither did their teacher. But that didn't stop them.
And so, when the "Rubble Busters" from Maxwell show up for the Iowa FIRST LEGO League Championship on Saturday, Jan. 18, at Iowa State University's College of Engineering, they'll demonstrate a mobile app that could help people survive an earthquake.
"The app will definitely tell you to drop, cover and hold on," said Elisabeth Balke, who's 14 and an eighth grader at Collins-Maxwell Middle School.
Balke is one of hundreds of 9- to 14-year-olds from 72 teams who made it through regionals and will compete for the annual state championship. They've all been preparing a research project related to this year's theme, "Nature's Fury." And they've all been programming LEGO robots that can accomplish missions simulating an emergency response to a natural disaster. Can the robot, for example, safely deliver a LEGO cargo truck containing food, water, fuel and medicine to a safe zone?
You can see the students in action—hear their cheers and screams, too—from 9 a.m. to 5 p.m. in Iowa State's Howe Hall. The event is nothing like a trip to the library for a series of book reports; it's a boisterous celebration of brains, engineering, science, technology, teamwork and silly hats. It's also free and open to the public.
It's clear the students have fun. But there are also some serious goals for the state competition.
"This is a chance for students to see themselves on a university campus and see that higher education is a possibility for all of them," said Camille Sloan Schroeder, the director of Iowa FIRST LEGO League who oversees K-12 community outreach for Iowa State's College of Engineering. "And, when they leave this competition, I want them to keep aspiring to solve the world's problems."
Cherri Bates, the K-12 talented and gifted instructor for the Collins-Maxwell Community School District, is in her fourth year coaching FIRST LEGO League teams and likes what the competition teaches her students.
"I like the fact that it combines science, technology, math, language arts and geography," she said. "It's an all-encompassing program that teaches not only academics but life skills. It allows our students to find a niche they like and still be a part of the team."
Max VanMaanen, for example, is a 14-year-old eighth grader who found his niche building and programming the team's LEGO robot.
"The robot section is my favorite," he said. "I really love the design part. You get to build it yourself and tell it what to do."
And he thinks the robot he and his teammates built this year can be competitive: "Our robot is pretty good at speed. It has big wheels that allow more distance per revolution. We're also good at agility. It's pretty small and can do sharp turns."
All that can make a big difference when students put their robot on the competition table, line it up and roll it out to follow a pre-programmed path to, say, reunite a LEGO family.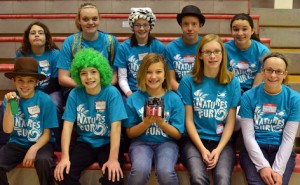 "Yes, this is about science, technology, engineering and math education," said Schroeder. "But it's also about providing students with inspiration to be tenacious. Hopefully, through a fun-filled day with other bright students, they can leave feeling like this mattered, that they know they can do this."
Iowa State's College of Engineering has directed and sponsored the state championship for 12 years as part of its outreach and recruiting efforts. The championship is also sponsored by Rockwell Collins, the Engel/Johnson family, John Deere and the mark Guidry Foundation.
FIRST LEGO League is the creation of FIRST, a nonprofit organization based in New Hampshire and dedicated to inspiring young people to explore science and technology, and the LEGO Group, the Denmark-based toy manufacturer.
Read the original story from the Iowa State University News Service.