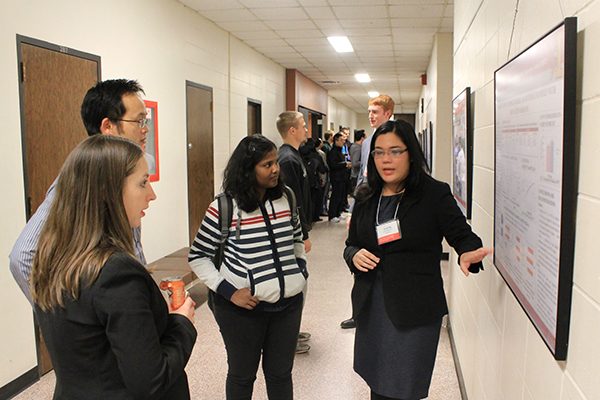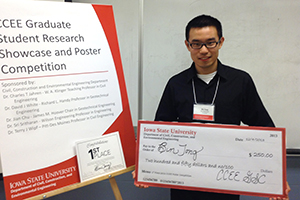 On Dec. 4, the Department of Civil, Construction, and Environmental Engineering (CCEE) held its third annual Graduate Research Showcase and Poster Competition. Approximately 150 people attended the event, held in the hallways and Room 230 on the second floor of Town Engineering Building. Students of the CCEE Graduate Student Council prepared and hosted the free showcase and competition. The judges for the night were CCEE Professors Doug Gransberg, Shashi Nambisan, Jim Alleman, Kejin Wang, Associate Professor Jay Shen, as well as two alumni: Casey Faber (BSCE'08), and Alekhya Kondalamahanthy (MSCE'13).
The top award for the night was a cash prize of $250. The second place prize was $200, and the third place prize was $150. In addition, attendees voted on a People's Choice Award, which netted $200. Attendees also entered raffle tickets to win several Iowa State and CCEE prizes.
Thirty presenters displayed many types of high-impact research. For example, Mohammad Shaheed, a doctoral student in transportation engineering, presented research on the identification of winter crash hotspots using empirical data. Robert Peggar, a master's student in structural engineering, presented about precast concrete structures and how they react to seismic activity.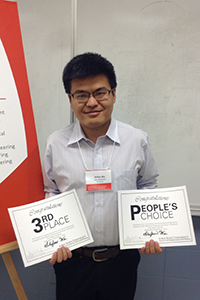 At the end of the night, Bin Tong won with his poster, "Seismic Deformation Evaluation for Improved Caisson Quay Walls." William Cord earned second place with his poster, "Prevention of Ice Formation on Paved Surface." Shifan Wu was awarded third place and People's Choice with his poster, "Mitigation of Liquefaction Hazards Using Microbial Geotechnologies." Wu is the first researcher to place in the competition and receive the People's Choice Award.
The CCEE Graduate Research Showcase and Poster Competition is an entirely graduate student-run event. Students build presentation skills in a public setting. At the same time, peers and students interested in research learn about the graduate student research process. Faculty and alumni also get involved in judging presentation skills and research content. For more information about civil engineering graduate programs, go to www.ccee.iastate.edu/academics/graduate.
CCEE Communications Intern Alex Hagar contributed to this story.